ActionAid Vietnam reviews 10-year journey of fighting poverty in northern province
(VNF) - Recently, in Hoa Binh province, ActionAid Vietnam (AAV) has held a meeting to review its project assisisting development for Da Bac district in the last 10 years.
(VNF) - Recently, in Hoa Binh province, ActionAid Vietnam (AAV) has held a meeting to review the results of its development assistance project in Da Bac district (Hoa Binh province) which has just completed after 10 years of implementation.
The conference overview (source: AAV)
Accordingly, the organization has played a significant part in bringing a better life to nearly 97,800 residents in the district's five poorest communes: Hao Ly, Tu Ly, Hien Luong, Cao Son and Tan Minh.
The project was implemented by ActionAid Vietnam and Da Bac district people's committee from 2007 to 2017 with a total value of VND 14.5 billions.
In 10 years (2007-2017), AAV, in coordination with the Da Bac commune's authorities, has carried out various activities, focusing on the 6 key aspects of development, which are: sustainable livelihood models, adaptation to climate change, improving the community's capacity through illiteracy-eradication classes for adults and community-based development group; promoting gender equality and women's rights; improving living standard and learning condition for children; improving reconciliation responsibilities of local authorities; enhancing capacity in disasters management and adaptation to climate change.
Women, children and vulnerable groups are the center of ActionAid's projects.
Nowadays, the project has generated a number of positive outcomes. The most remarkable achievement is the establishment of 34 REFLECT club (REFLECT = Regenerated Freirean Literacy through Empowering Community Technique).
The clubs have totally 670 active members, of which women accounts for over 70%.
The activity did not only lift the impoverished people out of illiteracy, but also equipped them with relevant skills in livelihood alternative, participating in poverty alleviation, improve family's income, and taking better care of family members' health.
10,382 beneficial inpiduals who were living in poverty, especially women and young girls, have been able to improve income and living quality via accessibility to soil resources, perse cultivar, livestocks with better endurance to climate change.
At the same time, numerous workshops on human's rights, women's right were conducted for thousands participants, helping the residents, particularly females, to effectively fulfill their roles in community activities.
The programme: "Enhancing chilldren's rights at school" also helps improve learning conditions as well as raising the awareness of 1,800 children on their own education right, partly contributing to reinforce equality in accessing to quality-education for all kids.
"ActionAid Vietnam, through different livelihood models, community-based development group, has been helping raising the awareness and capacity for local residents, bringing about positive change on local social-economic aspect.
"Being a highland commune where women still cope with a lot of disadvantages including discrimination, injustice and inequalities, we specially appreciate the training and broadcast of information on Women's right by ActionAid, which facilitate the women gain more control over their own lives, and be engaged in social-political activities of the commune", said Bui Thi Hieu, Deputy Chair of the Da Bac people's committee.
Pham Thanh Van (L) representative of AAV and Deputy Chair of the Da Bac district People's committee (source: AAV)
Also at the ceremony, coordinator of ActionAid north region program, said: "The development aid program in Da Bac, Hoa Binh is one among successful cases initiated by ActionAid Vietnam in poverty reduction in the North. We believe that positive impacts of the program will be resilient, as local authorities are proactive in replicating the models in other parts of the district."
More importantly, there has been an overall transformation in the awareness of local people, which is expected to be spread further to other parts of the province, to better improve Hoa Binh people's life, especiallly the poors, women and children./.
( Translated by Phi Yen )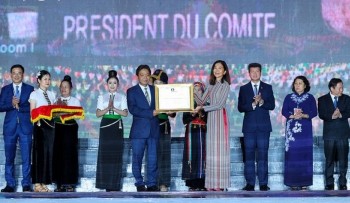 Viet's Home
UNESCO presented Vietnam a certificate recognizing Xoe Thai dance as an Intangible Cultural Heritage of Humanity at a ceremony held in Yen Bai province on September 24.