Alexei Syunnerberg: Vietnam had become my second home
Alexei Syunnerberg, a Russian journalist, was the former head of the Vietnamese Department of the RT (Russian Today) television network. From the 1960s to the present, he has interviewed most of the Vietnamese leaders and politicians visiting and working in Russia. He has been spent his life writing about Vietnam. He also orientated his only son to become an expert on Vietnam, the country he considers as his second homeland.
(VNF) - Alexei Syunnerberg, a Russian journalist, was the former head of the Vietnamese Department of the RT (Russian Today) television network. From the 1960s to the present, he has interviewed most of the Vietnamese leaders and politicians visiting and working in Russia. He has been spent his life writing about Vietnam. He also orientated his only son to become an expert on Vietnam, the country he considers as his second homeland.
A correspondent for VietnamPlus in Russia interviewed journalist Alexei Syunnerberg on occasion of New Year 2018.
Russian journalist, Alexei Syunnerberg. (Source: Internet)
Q: When and why did you choose to study Vietnamese?
Alexei Syunnerberg: After I graduated high school in 1962, I decided to go to university to study oriental language. At that time, there were only two oriental institutes, the Institute of Oriental Languages IXXA (Lomoloxov University) and the Moscow State Institute of International Relations (MGIMO).
I think I have more ability to get into the Oriental Language Institute. I have participated in five contests, and scored 23, meanwhile, the highest score is 25. The school's director told us that candidates who are studying French can only study one of two languages, Vietnamese or Turkish. So I chose Vietnam. For me back then, I know a little about the August Revolution, Uncle Ho and the first resistance war of Vietnamese people. Over the past years, I was happy that I chose the right one.
Q: In your entire career to this day, how many Vietnam's heads of state/politicians you had met and interviewed? Which interview was the most impressed?
In the 60s, 70s, 90s I met and interviewed most of the Vietnamese leaders, except Uncle Ho and Ton Duc Thang. I worked with all Vietnamese ambassadors in the Soviet Union, starting with the second ambassador, Nguyen Van Kinh. But I did not meet Ambassador Nguyen Luong Bang. I met and interviewed the heads of state and the Communist Party of Vietnam mainly in Moscow.
I still remembered the meeting with Nguyen Van Linh in 1980. He was the President of the Vietnam General Confederation, then came to Moscow as the guest of honor at the Olympics.
As planned, on October 31st, I would meet Linh at 12 am. On that day, the flight into space of Pham Tuan and Viktor Vassilyevich Gorbatko was successfully completed, but that day was a special day for me. My wife gave birth in the morning. My son is now 37 years old and also a specialist in Vietnam. Early in the morning, I just only had time to call up my parents and delivered the new then ran to Nguyen Van Linh's hotel. I arrived and Linh asked me why I was so happy, I told him I just had my first child. He said on this speacial occasion according to the custom of both Russia and Vietnam, we must drink wine (…).
A few years later, Linh was appointed General Secretary of the Communist Party of Vietnam. Once again in Moscow, at a Foreign Ministry press conference, I met him the second time. There are many reporters there, but Linh came to me and asked "How's your son? " Many years had passed but Linh still remembered me and my son. This was the most touching meeting. So my son was born on the last day of the Soviet-Vietnamese space flight. My grandchild later was born on Uncle Ho's birthday.
Q: So you and your family have many special memories with Vietnam, so have you publish any book about Vietnam yet? If not, do you plan to publish any in the future?
I have never published a book about Vietnam. I send articles about Vietnam every day to radio station. Before that was a Moscow radio station - a foreign affairs radio station. After the Soviet Union disbanded, our station was renamed the Voice of Russia.
A few years ago, under the decree of President Vladimir Putin, the Russian Voice and Novoxti were merged into the Russian Media Company. In this company there is a center called Sputnik, covering news in dozens of foreign languages, including Vietnamese. The website of Sputnik is very well-organised, useful and information rich. That is not just my comment but many Vietnamese said so. Because it's constantly innovating. There are many important news about Russia, Vietnam, world's situations, Russia-Vietnam issues, Vietnamese community in Russia and abroad. I know many Vietnamese in Russia also follow our Sputnik Vietnamese website.
Q: How many times have you visit Vietnam and what do you remember most about the country?
I came to Vietnam for the first time in 1967, on the occasion of the Vietnamese Revolution in October. So many years had passed! I came to Vietnam nearly two dozen times, even in wartime and have to stay in Hanoi's bomb shelter. When U.S. aircraft bombarded, I was near Hoan Kiem Lake. When there was an alarm, Vietnamese friends shouted "Enter to the bomb shelter now". After that, I went to Vietnam many times when the country's at peace. My most recently the visit was in July, 2017.
I am very impressed with Vietnam and its people. I admire the achievements of the Vietnamese state and people after the Reunification Day. And of course, I deeply respected the heroic spirit of the Vietnamese who fought with the Americans and won the glorious victory. Now, coming back to the country, I find the Vietnamese people very optimistic, happy and confidence in the future. I like Hanoi most. I like the newly built houses of the capital. At the same time, I like Vietnamese rivers, villages, and long traditions of the people.
Q: In your opinions, what do Russian people think of Vietnam and the Vietnamese community in Russia. How does that perception differ from a few decades ago?
When I answered the previous question, I said that I never wrote a book about Vietnam. That's correct. But I had the opportunity to write a book about the Vietnamese community in Russia, in 2002, together with Thien Can, his real name Tran Van Co, a prominent Russian expert. Once, he asked me to write a book together.
I will translate his answers into Vietnamese and will publish it in Moscow. At that time in Moscow there was the Sang Tao Publishing House under the Association of Vietnamese Science and Technology in Moscow. He said: "We will work in Russian, I will translate into Vietnamese and publish the book in Moscow." At that time in Moscow there was the creator of the Association of Vietnamese Science and Technology in Moscow.
And we worked a few weeks at Co's home. Finally, 100 copies was printed in Moscow in 2002. In this book I write mostly about my biography and the Vietnamese community. In Moscow, there are many Vietnamese and commercial centers (aka Vietnamese markets). At this stage, the financial situation of the Russians was very complicated, especially in the 1990s and late 1990s. Mostly Russians, especially the Muscovites, bought good at the Vietnamese market.
As for the Russians' attitude toward Vietnam, of course it slightly changed. In the Soviet Union, especially when Vietnam fought against the U.S., the entire Soviet people tried to support and help Vietnam. There are thousands of Russians came to the Vietnamese Embassy and asked to be sent into Vietnam to fight in the ranks of the Vietnam People's Army. Factories produced the Vietnam's orders(...). Vietnamese students studyed in dozens of the largest cities of the Soviet Union.
The Soviet Union trained nearly 50,000 university professors, many experts and scientists for Vietnam. At that time, the Soviet-Vietnam Friendship Association, which was very extensive, welcomed many Vietnamese delegations. Every week, there was definitely a certain delegation visits Moscow.
In the 1960s, I started working at a radio station (in 1966 I was accepted into the radio station). I traveled with these delegations, both as a correspondent and an interpreter, throughout the Soviet Union. I visited all the republics of the former Soviet Union. In 1975, when Saigon was liberated, this was a real festival for Soviet people. But then the Soviet Union dissolved, there were so many difficulties. For our people at that time, we mainly focused on our own country.
And I am very happy that, starting in the 2000s, our two countries' relationship began to recover, especially when President Putin visited Vietnam for the first time in 2001. At that time, my son was in Vietnam as a trainee and told me that the Vietnamese people warmly welcomed Putin. Since establishing the Strategic partnership in 2001 and Comprehensive Strategic Partnership in 2012, major projects in a number of economic, cultural and scientific fields have been started carrying out. Now Russians consider the Vietnamese as our brothers.
Alexei Syunnerberg and his son Maxim Syunnerberg. © SPUTNIK/ DAN THI
Q: Both your son and daughter-in-law learned Vietnamese. You mentioned in the first part of the interview that your son was a Vietnamese expert. Was he influence by you?
When my son graduated from high school, I asked him what he wanted to do, Maxim answered that "All my life I heard dad speak Vietnamese by telephone (I talked about some meetings or interviews), so I also want to learn Vietnamese." So I told him to go to my old university. I do not know why Maxim's wife started learning Vietnamese, but Maxim was her teacher.
And I'm very proud of my son following his father's path, also at the same university where I graduated from. And now he is a specialist in Vietnamese language and history. He also has written a number of books included Vietnamese-Russian and Russian-Vietnamese dictionaries, 5 or 6 books on the name of the Vietnamese; and translated some books of Vietnamese into Russian, etc. My grandchild, a girl, was borned on a very memorable day, Uncle Ho's birthday on May 19th.
Q: On the occasion of the New Year 2018, what is your message to colleagues, Vietnamese people, and Vietnamese journalists in Russia?
For my colleagues and Vietnamese people everywhere, I want wished them a new year of good health, happiness and prosperity. And of course, may the New Year bring peace, prosperity, and happiness to Vietnam.
Q: Thank you so much and wish you and your family all the best.
Translated by Tu Phan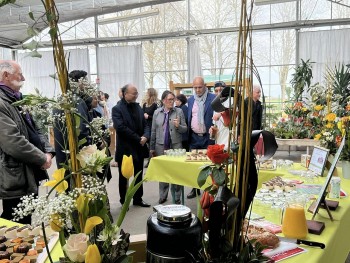 Overseas Vietnamese
Vietnamese Ambassador to France Dinh Toan Thang recently paid a working visit to Saintes, a city in southwestern France, to promote cooperation between the city and Vietnamese localities and attended the Vietnamese Culture Day, VNA reported.