Ancestral craft villages struggle to survive
Surrounded by bamboo, Trần Thị Đo, 76, quietly splits each bamboo tube into thin wickers for weaving baskets.
Surrounded by bamboo, Trần Thị Đo, 76, quietly splits each bamboo tube into thin wickers for weaving baskets.
Trần Trường Sơn, deputy head of the Farmer's Association in HCM City, said establishing co-operatives to manage the remaining 19 villages would be a way of saving them.
Many residents of Thái Mỹ craft village in HCM City weave baskets like Đo does every day, but they are all elderly women and men.
Đo says youth are giving up this job for better work in industrial zones.
"Only old people in the village still do this job because we are old and we love this career. Locals now can not earn a living by weaving as this did previously," Đo said. "I make a pair of baskets a day, getting only VNĐ12,000 (US$0.5), just earning some money to buy candy for kids," she told Tiền Phong (Vanguard) newspaper.
Previously, bamboo and rattan weaving could feed the whole family and greatly contributed to increased income and reduced poverty in the village, but with the development of the economy, plastic and aluminum products gradually "kill" bamboo baskets.
Thái Mỹ Village is not unique. Dozens of traditional craft villages in HCM City are encountering the same human drain. Its 64 craft villages have lived through many difficult periods, but have fallen victim to cultural change, fast urbanisation and global economic integration. Now barely 19 remain.
Their production scale has been halved or more, and lacking new orders, many people have turned to other jobs. "Weaving is not dead, but it is having a hard time existing. Some people do ikt in their free time for fun, but they don't expect anything more from it," said Đo.
Nguyễn Thị Bảy, a traditional craftsman in Tân Thạnh Tây Commune, reminisces about times when traders and consumers from Đồng Nai, Tây Ninh and Long An provinces would compete for products.
"Now, we cannot compete with industrial products due to lack of capital, small scale production, monotonous product design, and backward technology. Regretfully, we have to give up," Bảy said.
Magic broom
Ngô Văn Tỵ from District 6 said his product was very famous in the region. "My broom is made entirely by hand and is very strong. Traders in the wholesale market often came to collect the goods. But over the past three years our product cannot compete with others at low prices," Tỵ said.
People like Tỵ have been left behind, unable to afford a life based on traditional craftmaking.
Some villages have been successfully in find an eco friendly niche for their craft products, applying technology together with promotion and marketing.
"I have to always update new designs to match trends. To improve export, our products must be more beautiful, durable and lightweight," said Nguyễn Hữu Bèn, director of Thanh Trúc bamboo blind production company. "Due to love for and regret for my ancestors' career, I want to preserve this for my descendants."
"For traditional craftsmen, this work is our life, the memory of our lineage. I never quit the job, still do it when someone asks. We are still finding orders and also want to develop our products but we don't have money," said Võ Thị Xuyến of the Bình An mat weaving village in District 8.
According to head of the Lửa Việt Tourism Company, Nguyễn Văn Mỹ, traditional craft villages risk disappearing not only in HCM City, but also in Hà Nội, Hội An and Bình Dương Province. "The reason is weak co-operation between craft villages and enterprises. To save the villages, the State needs to reduce taxes for them and obtain more investment for infrastructure, Mỹ said.
Some villages have linked the traditional craftwork with developing tourism services. But they operate on a small scale.
Vũ Duy Dần, chairman of the Việt Nam Craft Villages' Association, said loss of a sustaining craft also leads to loss of community cohesion, making it weaker and more vulnerable. "The craft sector should be able to offer a good livelihood and preserve the culture of local people," he said./.
VNF/VNA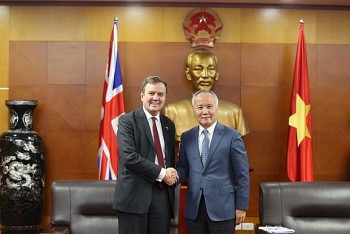 Economy
UK ready to boost CPTPP's economic firepower, said the Trade Minister on Vietnam visit