The Institute of Shopping Centre Management (ISCM)
For The Institute of Shopping Centre Management (ISCM)'s latest contributions to VietnamTimes, see below:

HONG KONG, CHINA - Media OutReach - 10 March 2021 - The first ever ISCM Awards 2021 (the "Awards") is now open for applications until 30 June 2021. Initiated by the Institute of Shopping Centre Management ("ISCM"), the Awards recognises and showcases the outstanding performance and achievements of the finest retail property management professionals in Hong Kong in 5 award categories.Founded in 2003, ISCM is a professional society and a recognised governing body in Hong Kong to standardise and enrich the overall professional profiles within the industry and strive to be leader of the shopping centre industry. The first annual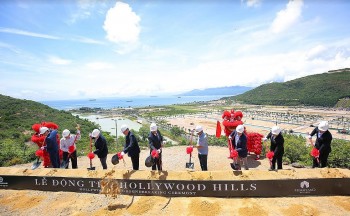 Economy
On October 2, at Hai Giang peninsula (Quy Nhon city, Binh Dinh), Hung Thinh Corporation held the groundbreaking ceremony of Hollywood Hills by YOO Inspired by Starck – a subdivision at MerryLand Quy Nhon. The event marks the first time that the world's No.1 ranked design and branded residence company YOO Inspired by Starck is officially present in Vietnam, with a collection of villas designed by creative director, Philippe Starck.