Belgian NGO assists tea farmers in Vietnam
(VNF) – Vietnamese tea farmers are now more confident with the support from Belgium.
(VNF) – Vietnamese tea farmers are now more confident with the support from Belgium.
Tea farmers in Vietnam (source: VECO Vietnam)
Tea is one of Vietnam's national drinks and the second most popular beverage in the world. However, less and less Vietnamese farmers are willing to invest in tea due to a regular decline in prices in the past decades.
The issue is attributed to some reasons. First of all, tea production in Vietnam is concentrated in the Central and Northern Highlands, two areas that are particularly at risk of food insecurity and land degradation.
Secondly, tea farmers in Vietnam also faces various difficulties, such as, low productivity, limited access to working capital and credit, lack of business capabilities regarding marketing, communication, networking and management.
Brighter prospect
Recently, the income of tea farmers in Lai Chau, Yen Bai and Thai Nguyen provinces has increased by 30%, while there is a reduction in the amount of chemicals applied and in an increase in the quality of fresh tea leaves, leading to higher prices.
The recent improvement of the tea industry in three aforementioned provinces is credited to a project named "Mainstreaming Sustainable Management of Tea Production Landscapes", initiated by the Rainforest Alliance (Belgium) with the financial support of the Global Environment Facility (UNEP).
The project aims to reduce land degradation associated with tea production in Asia by supporting farmers and tea estates to adopt sustainable land management practices and by catalysing the tea industry and government leaders to mainstream these practices in their business operations and policies.
In Vietnam the project was coordinated by the Belgian non governmental organization - Vredeseilanden (VECO).
In addition to reducing farmers' vulnerability and enhancing their sustainable livelihoods, the project aimed to achieve a large number of environmental protection objectives such as restoring soil fertility, conserving water and soil, reducing greenhouse gas emissions, enhancing carbon sequestration, preserving biopersity and increasing the flow of ecosystem services in tea production landscapes.
How they do it?
This project is adopting a landscape approach to the problem of land degradation
In this approach, interventions are place-based, rather than sector-based. They adopt a holistic perspective where socioeconomic and geographical strategies are mixed, with the objective of achieving social, economic and environmental objectives in areas where agricultural production competes with environmental goals.
The landscape approach basically recognises that landscapes are multifunctional, meeting a wide range of needs such as water provision, air purification, pollination services, crop production for food and industry – the list goes on – and that all these elements must be managed in an integrated way.
In order to enhance sustainable land management practices and to mainstream them in tea-growing landscapes, VECO works at two levels.
First, it worked with tea companies and producer organisations to encourage the adoption of sustainable land management techniques such as mulching, compost, shade trees planting, cover crops, and tea field design.
More specifically, VECO prepared a training curriculum and conduct training activities, organise extension events, and coach technical staff and lead farmers.
In order to ensure farmers' buy-in and practices' suitability to the local context, the project relied on farmers' traditional knowledge on sustainable land management. Local practices to fight erosion and preserve soils' fertility were investigated and 8 key practices were documented and integrated in the project's training curriculum.
A workshop for tea farmers held by VECO in March (source: VECO)
Since 2016, over 3,180 Vietnamese tea farmers have been trained by VECO in sustainable land management practices.
Adopting a Training of Trainers (ToT) approach, VECO created a pool of 23 qualified trainers, including young staff from local tea factories, a cooperative and a government department to train tea farmers in Yen Bai, Lai Chau and Thai Nguyen provinces. Closely coached and monitored by VECO, they went on to train 3,182 farmers on sustainable tea production, using a Farmer Field School methodology (FFS).
This approach is highly regarded for its ability to foster experiential learning and to empower farmers to take action towards improved agro-ecosystem management. At the same time, VECO also set up a demonstration site for training purposes and designed a poster that was distributed to approximately 4,000 farmers to remind them of good soil management practices.
During the training period, VECO conducted 12 monitoring visits to assess trainers' performance in building farmers' capacity for sustainable tea production. The assessment was based on a monitoring tool compiling a series of performance indicators. In case an indicator was assessed as poor by VECO's coaching team, immediate corrective actions were discussed with the trainers to improve training quality and delivery.
Second, VECO shares successful examples and results with the government and decision-makers in the tea industry, to support the large-scale adoption of sustainable land management practices at the tea landscape level. This phase will take place in 2017 and will involve the publication of case studies and the organisation of various events with decision-makers.
Higher quality, higher productivity lead to higher income for farmers (source: VECO)
In addition to encouraging the adoption of sustainable land management practices by farmers, the project also advocated national and provincial governments to integrate those practices in their policies and decision-making. For that purpose, on 26 and 27 December 2017, VECO organised a workshop to share experiences and plan for the expansion of sustainable land management practices.
Organised in Lai Chau province, the event brought together representatives from Vietnam Tea Association (VITAS), Rainforest Alliance, the Departments of Agriculture and Rural Development of Thai Nguyen and Lai Chau provinces, and tea companies. After a trip to farmers' fields to learn about the project's main achievements, participants planned for the replication of the practices in their province.
In Thai Nguyen province, the government will provide VND 1 billion (~USD 44,000) to the Crop Production and Plant Protection Sub-department for the upscaling of specific land conservation practices. A policy brief recommending the upscaling of these practices at the national level was also presented to Vietnam's Ministry for Agriculture and Rural Development via the National Sustainable Tea Development Steering Committee.
The project is coming to an end in March 2018 but hopes are high that its impact will be felt for many more years to come./.
( VNF )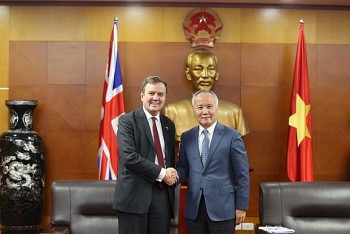 Economy
UK ready to boost CPTPP's economic firepower, said the Trade Minister on Vietnam visit