Britain, China pledge to promote free trade
(VNF) - China and Britain have pledged to promote free trade and cooperate on building a open world economy, fanning efforts to shore up what the two governments have called a "golden era" in their relationship, the Xinhua news agency reported on Friday.
(VNF) - According to Xinhua news agency, China and Britain have pledged to promote free trade and cooperation on building an open world economy.
China is one of the countries Britain hopes to sign a free trade agreement with once it leaves the European Union. London and Beijing have been keen to show that Britain's withdrawal from the bloc will not affect ties.
The pledges on trade and cooperation were made during a Thursday meeting by Chinese Foreign Minister Wang Yi and his British counterpart Boris Johnson on the sidelines of a meeting of the Group of 20 largest industrialised countries held in Germany's western city of Bonn.
The two countries have in recent months announced closer cooperation in areas such as financial services as the British government prepares to negotiate the country's EU porce.
Reported by Xinhua News, Wang said that both nations would promote flagship cooperation on projects such as the Hinkley Point nuclear power station in Britain, and would look to strengthen their partnership on issues such as trade through close high-level exchanges.
China's first freight train reached Britain in Jan 2017 - part of the effort to promote bilateral trade (source: Twitter)
Johnson, for his part, stated Britain would strengthen strategic cooperation with China on international affairs, the report added.
British Prime Minister Theresa May has been invited by China to attend a major summit on the "One Belt, One Road" initiative to build a new Silk Road, according to Reuters./.
( VNF/Channel News Asia )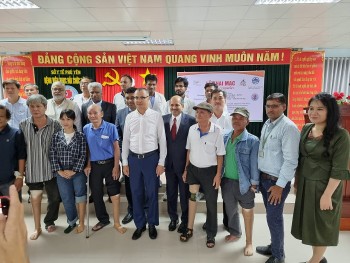 Friendship
This is the 5th time the Jaipur Foot Artificial Limb Fitment Camp has been held in Vietnam since 2018 by the Indian Ministry of Foreign Affairs, Indian agencies and organizations.