Businesses stand to gain if they back university research
Bui Van Ga, former deputy minister of Education and Training, speaks to Thanh nien (Young People) newspaper about the need to reform curriculum and encourage businesses to support scientific research in higher education institutions.
Bui Van Ga, former deputy minister of Education and Training, speaks to Thanh nien (Young People) newspaper about the need to reform curriculum and encourage businesses to support scientific research in higher education institutions.
Former Deputy Minister of Education and Training Bui Van Ga. — VNA/VNS Photo
Is outdated curriculum the reason that people are still dissatisfied with the "output" of tertiary education?
Yes. Most schools are offering stand-alone, major-based curricula with education goals from the last century, aiming at training for currently existing jobs. However, the new need is that students are also oriented towards start-ups, so that after graduation, they possess the ability and knowhow to generate employment for themselves and for others, not just to fill existing positions. If education programmes' overarching goal is to prepare them for jobs in government's agencies or become salaried workers in the private sector, the graduate unemployment rate will be high, since there cannot possibly be enough jobs for every graduate.
A student who can create jobs will attract the participation of other students, so that the labour market can absorb a large number of graduates that tertiary education 'produces' each year.
To this end, education programmes must be designed with an interdisciplinary and project-based approach, including practical problem-solving challenges for students. However, most universities in the country do not do this well.
When the 2012 Law on Higher Education was passed, many expected tertiary education to get a significant quality boost, but this has not happened, apparently. Can you comment?
When developing the Law on High Education 2012, what I wanted most was to give total autonomy to universities. But there have been inconsistencies with other related laws that have prevented universities from exercising full autonomy.
A notable example is the Ha Noi Industrial Garment and Textile University. This is the only public university not under the management of any ministry, meaning that they enjoy the highest degree of autonomy. However, their operations have not benefited much from this relative freedom due to other laws. Project approvals need the backing of the managing ministry, so in the end, the university has to ask a ministry to be their 'manager' who, under the law, will have the authority to give the go-ahead to research projects that the university wants to undertake.
You have previously mentioned that research activities in universities were changing at a slow and disappointing rate. Are faulty policies at play?
Currently, funding for scientific research comes mostly from the State budget in addition to a modest amount from the universities' budget. Meanwhile, in many other countries, funding for scientific research is provided by businesses. Students who intern for businesses get paid. Businesses place orders for research into their areas of interests, they are also the ones who support education and training activities in universities, frequently providing them with financial support for research, machinery and other research tools. Furthermore, this support is considered one of businesses' responsibilities since they are the ones who will use the workforce from these universities.
In Vietnam, businesses barely make any contribution to education and training, while still making use of the workforce. It is also unreasonable that students wanting to intern with some firms have to pay instead of getting paid.
The education ministry has played an advisory role to the Government in introducing the 2014 Decree 99 on investment to encourage science and technology activities in higher education institutions. A notable provision in the decree is to encourage businesses to take a more active role in the research and development activities in universities.
To achieve this goal, we need proper policies to let businesses see that their investment will be fruitful and that their support for the universities will be an honourable responsibility. For example, in developed countries, businesses that support scientific research in universities will, in turn, get tax cuts or waives. Naturally, the education ministry cannot make such policies on our own.
With the education ministry continuing to boost co-ordination with other concerned ministries and agencies to help the Government come up with reasonable policies, can we expect more positive results?
The Ministry of Education and Training has held several conferences and meetings, with a focus on the need to implement policies that can encourage businesses to support universities. The ministry is still waiting for the Government to give the permission to proceed with establishing an inter-ministerial working group to work out the details. However, the most important thing is that businesses themselves can realise the benefits of this activity. If the businesses show a lack of interest and the intended policies don't prove feasible, then State management agencies will hesitate with further reforms./.
( VNF/VNA )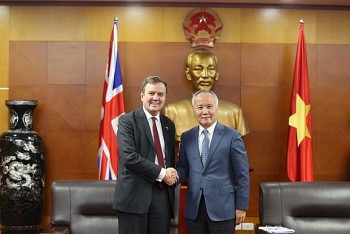 Economy
UK ready to boost CPTPP's economic firepower, said the Trade Minister on Vietnam visit