Chinese goods make Singapore "shopping heaven" dying
(VNF) - The changing shopping habits of consumers has made retailers in Singapore - the shopping paradise struggling more than ever.
(VNF) - The changing shopping habits of consumers have made retailers in Singapore - the shopping paradise struggling more than ever.
After years of shopping online for clothes only, Olivia Chin – a Singaporean civil servant, now buy also many household items online.
A fashion boutique in Singapore's Suntect City shopping mall moving out sale (Photo: AFP)
Too cheap price
Olivia bought a tea table, a dining table, a sofa, chairs, lamps. Instead of spending nearly USA 1,500 on a dining table in Singapore, the 25-year-old just needed to pay USD 370 for what she purchased online. Shipping fee from China to Singapore is USD 2.20!
"I also buy bar chairs for USD10 online , while some stores in Singapore sell over USD 70. At first I was concerned about the quality, but that offset the price too cheaply, "Olivia told Hong Kong's South China Morning Post (SCMP).
More and more Singaporeans change their shopping habits like Olivia: just one click, everything is within reach.
For a country dubbed "shopping haven" as Singapore , e-commerce is turning its retail into "unmarketable hell".
Even Singapore's biggest discount event, the Great Singapore Sale, which has attracted so many tourists over the past 24 years, could not stop the traditional booths from falling.
This is the third consecutive year that sales at this event have fallen, so much that the Singapore media has satirized "Singapore Sale" is no longer "Great".
The death of the retail industry
Among Southeast Asian nations, Singapore is the place where e-commerce is most influencing the retail market.
The largest players in the e-commerce industry is targeting Singapore because it has large purchases (high-income people) and is the gateway to the ASEAN market.
Lazada and Taobao are replacing retail chains such as Isetan and Metro in Singapore. Last month, the giant Amazon also 'landed' on the island. Amazon Prime Now - Free delivery within 2 hours - is so popular that US companies have increasingly hired taxi and freelance drivers to deliver.
Experts say the "slow death" of the direct retail industry is inevitable, even in a small city that does not require as much transportation as Singapore.
Young consumers and savvy shoppers buy everything they need online, from shirts to shoes.
Workers in the city of Lianyungang (China) arranging goods for delivery to online shoppers. Photo: AFP
Some died, some passed
E-commerce is putting pressure on trade centers in Singapore, leading to a decline in rental space. This is a general trend except for the famous shopping centers.
The retail rent index, announced by the Singapore Urban Redevelopment Authority, fell 2.9 percent in the first quarter of 2017. This is the ninth consecutive quarter that has seen the index fall since late 2014.
But this does not mean that Singaporeans completely "boycott" the mall. Wandering in the cool buildings in the summer is still a hobby of many.
"They eat, they drink but they do not buy anything," Madam Woo, who runs a fashion store in Clarke Quay Central, lamented.
In order to adapt to the new conditions, Singapore trade centers seek to fill the void by selling "experiences" instead of goods such as bags, computers ...
For example, VivoCity will open a public library by the end of next year.
Another strategy is to add more food and drink stores. This type of business previously accounted for only about 20% in a mall, but now the ratio in some places has nearly doubled.
"To survive in new conditions, we must also provide online service to our customers," said Kelvin Tan, owner of a convenience store.
"People still like to go to the store and talk face to face. They still want to have such a life experience. Let's wait and see how consumers will change when online stores reach saturation, "Kelvin said./.
Ngoc Tran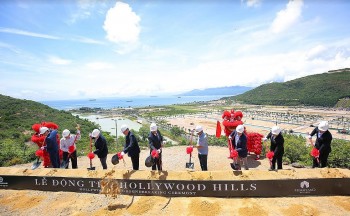 Economy
On October 2, at Hai Giang peninsula (Quy Nhon city, Binh Dinh), Hung Thinh Corporation held the groundbreaking ceremony of Hollywood Hills by YOO Inspired by Starck – a subdivision at MerryLand Quy Nhon. The event marks the first time that the world's No.1 ranked design and branded residence company YOO Inspired by Starck is officially present in Vietnam, with a collection of villas designed by creative director, Philippe Starck.