Clinton delivers impressive performance at first candidates' debate
The race to the White House is entering a decisive phase as the two presidential candidates Hillary Clinton and Donald Trump begin their televised debates.
(VNF) - The race to the White House is entering a decisive phase as the two presidential candidates Hillary Clinton and Donald Trump begin their televised debates.
One and a half months before the US Presidential Election on November 8th, Democrat candidate Hillary Clinton and her Republican rival Donald Trump are scheduled to participate in three rounds of live TV debates. The first debate took place on September 27th at Hofstra University Hall, New York.
Presidential debates have been televised since 1960. The first debate between Clinton and Trump had 100 million viewers, nearly one third of the US population, much more than the debate between Barack Obama and Mitt Romney four years ago or the 1980 debate between Jimmy Carter and Ronald Reagan.
Over 90 minutes, each candidate presented their viewpoints and criticized their rival in an in-depth discussion featuring six segments on a variety of issues. For each topic, the moderator asked a question and candidate had 2 minutes to answer. The three topics of this year's debate were the future direction of the US, how to achieve prosperity and how to ensure security for the US, which were sent to the candidates a week ago.
Democrat candidate Hillary Clinton during the debate. (Photo: VOA)
Clinton was said to have given more impressive performance during the 90-minute talk. They answered in general without detailing any specific tax plans for the wealthy. The two candidates addressed each other's weaknesses, instead of matters that concern most Americans.
According to a quick survey conducted by the website fortune.com right after the debate, Clinton won 54% of the votes and Trump won 45%.
Despite leading her rival in most public polls, Clinton is very cautious. Weeks ago, the campaign team of the former US Secretary of State appointed two veteran advisers, Ron Klain and Karen Dunn, to be in charge of drafting speeches. Clinton has studied Trump's campaign videos to discover his weaknesses. Analysts say Clinton, who has a great deal of political experience, needs to be wary of her rival's ability to win over crowds.
Republican candidate Donald Trump. (Photo: VOA)
Real estate billionaire Trump has advantages that could help him overwhelm the debate. The most prominent is Roger Ailes, former director of Fox News TV channel, who can help him with debate tactics and skills. Retired General Mike Flynn is able to make up for Trump's inexperience in politics.
Clinton and Trump are scheduled to debate at two more live events before the November 8th election, at Washington University in Missouri and Las Vegas University in Nevada. The vice-presidential debate will take place in Longwood University in Virginia.
The Presidential Election takes place with most Americans concerned about the economy despite the fall of unemployment rate. Other voter concerns include a higher minimum wage, education reforms, improved health care, and gender equality./.
Minh Phuong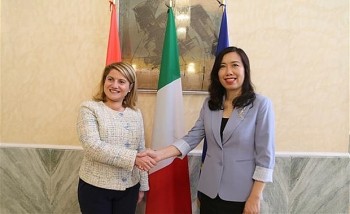 Friendship
The Vietnam - Italy political consultation is part of the occasion of the 50th anniversary of diplomatic ties and the 10th anniversary of the framework of the strategic partnership.