Corporate Social Responsibility discussed in APEC 2017 Start-up Forum
The session, jointly held by the
(VNF) - 300 delegates attended the APEC 2017 Start-up Forum on September 12. In the conference, the discussion on Corporate Social Responsibilities (CRS) received mass attention from the participants.
Overview of the discussion (source: TRAFFIC)
Viet Nam Chamber of Commerce and Industry (VCCI) and TRAFFIC (an international NGO network working in monitoring wildlife trade), aimed to raise enterprises' awareness of sustainable development and encourage them to design and practice CSR policies with a focus on wildlife protection.
The session brought together speakers who are leading renowned firms in Vietnam such as Delloite Vietnam, Phu My Hung Development Company Ltd., Song Han Incubator.
The delegates all shared the common view that in order to strengthen enterprises' engagement in global value chains to promote sustainable growth, enterprises need to pay more attention to abiding by regulations and improving business ethics by promoting good business standards for enterprises.
Particularly, the delegates expressed their concerns on wildlife trade issue.
Vice Director of SMEs Promotion Centre (VCCI) Le Thi Thu Thuy said:
"It is important for VCCI to show enterprises how to grow and manage businesses responsibly. CSR is one of the ways our partners and networks can do this. Business men and women should feel that they can challenge traditional beliefs that animal products are a sign of success. Success comes from hard work, forward planning and understanding business practices. "
"As more of our businesses enter the international market, we want our businesses and Vietnam to have a good reputation, this means that Vietnamese businesses cannot be linked to the illegal practices of poaching, transporting or consuming endangered wildlife" she noted.
In recent years, VCCI has been playing a critical role in spreading the business value of zero-tolerance towards the consumption of threatened wildlife amongst its partners.
Speakers in the discussion (source: TRAFFIC)
One of the Chamber's initiative was its coordination with TRAFFIC (an international NGO working in monitoring wildlife trade) to conduct a project named "Sức Tại Chí" (Strength of Will) to provide capacity building, toolkits, partnerships and information with regards to relevant and practical integration of CSR into business practices.
Nowadays in many countries including Vietnam, illegal trade of wildlife animals and plants is still a complex issue, which need to be solved by the joint efforts of all inpiduals and groups.
"Some businessmen are still putting their reputation and that of their company at risk by engaging in illegal consumption and gifting of rhino horn." Madelon Willemsen, Head of TRAFFIC's Vietnam Office said.
According to her, true business leaders take a strong stance and adopt a zero tolerance towards such behaviour throughout their company codes of conduct. clearly demonstrating to their investors, staff and customers that such practices are not acceptable.
Corporate Social Responsibility (CSR) (defined by APEC) is a concept whereby organisations voluntarily adopt interests of the communities in which they operate
It is a commitment by businesses to contribute to sustainable economic development by working with employers, their families, the local community and society at large to improve lives in ways that are good for business and development.
Priorities adopted by corporations are determined through ethical reasoning, rather than legal requirements and CSR initiatives might include social development, corporate governance and environmental protection.
Currently, in order to foster CSR, APEC member economies have been putting efforts in promoting CSR through exchanging experiences in the practice of innovation, IT application and development of "green" supply chains and anti illegal wildlife trade movement, among others./.
( VNF )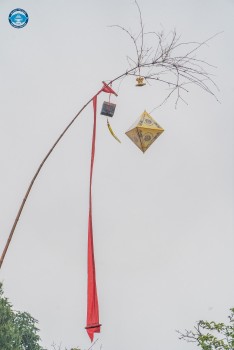 Viet's Home
In the past, the Neu pole (a tall bamboo pole with red garment strips used to ward off evil spirits during the lunar New Year) lowering ceremony at the royal palace of the Nguyen Dynasty was performed to mark the end of the New Year holiday and prepare to enter a new working year.