COVID-19 marks an unprecedented year in Vietnam
As the COVID-19 is ravaging and disrupting the world like never before, Vietnam is not an outlier. An unprecedented string of events have taken place in the S-shaped country, with schools, airports, streets left deserted and a concerted effort to help pandemic-stricken people.
A student learning online lessons at home during the early outbreak of COVID-19 in Vietnam (Photo: Dan Tri)
For the first time, Vietnamese students "enjoy" a three-month New Year break – an all-time long period ever recorded. As over 22 million students across Vietnam readied to return to school in February after the holiday break, the sudden outbreak of COVID-19 shattered the plan, things were turned upside down over safety concerns.
Since March, millions of teachers and students have turned to online platforms and television to carry on with the curriculum while still remained social distancing. Such teaching methods applied on large scale have never be seen in the country.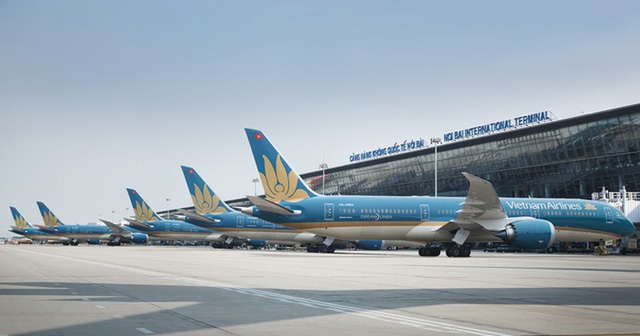 Noi Bai International Airport was left deserted during the pandemic (Photo: Dan Tri)
Rare sights of deserted airports were also reported for the first time. Major international airports like Noi Bai and Tan Son Nhat, known for the overflow of air passengers and thousands of flights daily, put on a strange coat during COVID-19 days.
An eerily quietness prevailed at the airports. Passengers and airport personnel were all covered in face masks, some even wore raincoats, helmets, boots, nylon gloves upon boarding the planes to protect themselves against the virus. The number of both domestic and international flights were gradually reduced. There were times when only repatriate flights were allowed to take off.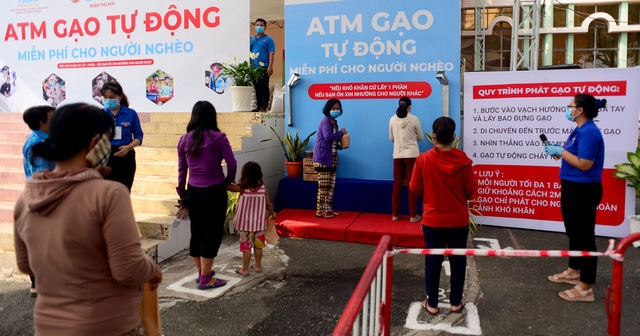 People waiting for their turn in front of the Rice ATM (Photo: Dan Tri)
Yet, through the unprecedented hardships, creative ideas and campaigns were initiated. Vietnam was the world's first country to set up Rice ATMs, Food ATMs, face mask ATMs dispensing free daily necessities amidst the straining pandemic. Free meal sets, noodles, fish sauce, drinking waters were also doled out to those heavily stricken by the novel virus.
The Rice ATM, first initiated by a young Vietnamese amidst the COVID-19 pandemic, was quick to be multiplied and installed across Vietnam and has gone beyond borders to reach a number of Southeast Asian countries and vicinity.
For the past month, the novel model has been automatically dispensing free rice 24/7 to people badly affected by the COVID 19 pandemic, drawing praise and support nationwide. Tons of rice have been given freely to the poor across the country daily.
The rice dispenser has made international headlines, with major news agencies like CNN, Reuters, etc., lauded the idea as "it sounds too good to be true"
These are just among the many unprecedented highlights to define the dogged resilience of the Vietnamese Government and its people. During the hardest time, all residents stay unanimous, supportive of others. As 2021 has just started, Vietnam is readying to usher in a new year of unprecedented developments as the pandemic eases.
Handbook
Yoga has recently become one of the best exercise methods that bring many health benefits to people, but it also requires a lot of technique and training to avoid injuries. There are several ways to practice it home, and will still help you achieve your goals.