Creative and effective model in foreign NGOs affairs management and aid mobilization
(VNF) – Since its establishment over 20 years ago, the Committee for Foreign Non-Governmental Organizations Affairs has played a vital part in administrating and mobilizing foreign NGOs aid.
(VNF) – Since its establishment over 20 years ago, the Committee for Foreign Non-Governmental Organizations Affairs has played a vital role in managing and mobilizing foreign NGOs aid.
After Vietnam was reunited in 1975, the destructive impacts of the war still hindered the development of the country. It was the time when friends from all around the world came to extend their helping hands to Vietnam, to help the nation with postwar relief process.
Since Vietnam implemented the "Doi moi" (Renewal) policy in 1986, the country's open-door diplomatic policy had led to the rapid growth of foreign NGOs in the country.
By early 1990s, the number of foreign NGOs in Vietnam had risen to hundreds. This trend had triggered a need for an authority specializing in administrating and mobilizing the aid from foreign NGOs.
In May 1996, the Committee of Foreign NGOs Affairs (COMINGO) was chartered. It is an inter-sectoral mechanism formed by nine member agencies, with the standing agency being the Vietnam Union of Friendship Organizations (VUFO).
VUFO Vice President Don Tuan Phong chairs a meeting with NGOs representatives. (photo: TL)
A distinctive model in NGOs affairs management
After 20 years of development, COMINGO has become the most effective inter-sectoral models in foreign NGOs affairs management. Its establishment marked the formation of a legal corridor for foreign NGOs to carry out humanitarian aid mobilization in the most effective way, and at the same time, help ensure Ministries, sectors, localities' fulfilment of their responsibilities and duties in assisting foreign NGOs and related tasks.
According to Vice President in-charge, General Secretary of VUFO, Don Tuan Phong, the charter of COMINGO is significant in simplifying the legal procedure a foreign NGO needed to complete to be permitted to work in Vietnam.
In addition, with the charter of COMINGO, foreign NGOs' working certification duration has been extended, which encourage long-term and larger-scale projects.
Furthermore, COMINGO has specified regulation, the responsibilities and duties of foreign NGOs in Vietnam, as well as those of Vietnamese central and local authorities which coordinate with foreign NGOs.
Nowadays, the legal framework for foreign NGOs and their assistance programmes for Vietnam, including aid has become comprehensive. This framework covers almost every aspect, as perse as aid mobilization, coordination, regulations for foreign project officers, tax policy, etc.
COMINGO is a mechanism in which different agencies maintain close and effective cooperation with one another. It is a hard-to-find models in the world, in terms of structure and policy for foreign NGOs.
Formed by nine member agencies, including VUFO, governmental representative agencies, related ministries, and sectors to consult, assess and implement missions assigned by the government, COMINGO works to mobilize, manage, allocate sponsored resources and at the same time, ensure national security.
Furthermore, information sharing, instruction, direction are provided thoroughly and timely, is another strength of COMINGO.
An information sharing session with NGOs in Vietnam (photo: TL)
Information sharing sessions are conducted frequently, via meetings, discussions, dialogues between COMINGO, PACCOM and NGOs, localities to make sure NGOs can access to adequate information their work requires.
"The Committee is the key agency providing relevant information for NGOs and answer for their enquiries if had. The mechanism of the Committee helps cut down NGOs's time spent on surveying the project site and facilitating NGOs in adjusting their activities to be in line with the country's need and priority. In addition, the Committee also help avoids the duplication of programmes, projects in the same locality,"​ Phong said.
Remarkable contribution
In over the last two decades, COMINGO has fulfilled all the missions assigned by the government. The committee has made various valuable proposals and suggestions for the government to come up with approriate policies and strategies in managing NGOs affairs.
Moreover, the legal documents have been completed and consolidated. The central and local authorities in charge of NGOs affairs are enhanced.
Thanks to effective information sharing activity, including regular meeting to help NGOs overcome difficulties they may face while implementing a project, assisting in administrative procedure and technical supports, COMINGO has established a trust-worthy partnership with foreign NGOs in Vietnam.
"The committee has contributed tremendously to foreign NGOs affairs, ensuring favorable conditions for NGOs to work in Vietnam in line with our goals, needs and in compliance with the country's law; contributing to the development of Vietnam's social-economic and realize the United Nations' sustainable development goals", said Head of COMINGO, Vice Minister of Foreign Affairs, Bui Thanh Son./.
( Translated by Phi Yen )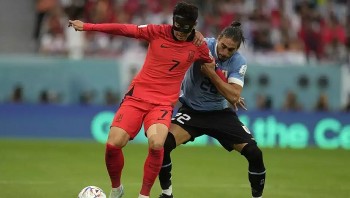 World
Both South Korea and Ghana are searching for their first wins at this year's World Cup. Ghana are facing the prospect of an early elimination from World Cup 2022 Group H when they travel to the Education City Stadium to face South Korea on Monday.