Dark picture of child sex abuse in Vietnam
More than 8,100 children have fallen victim to sex abuse during the five-year period ending 2016.
More than 8,100 children have fallen victim to sex abuse during the five-year period ending 2016.
A child's drawing of child molestation.
A conference on Friday painted a dark picture of child molestation in Vietnam, with the number of sexually abused children constantly increasing over the years while offenders are often the victims' family members or close relatives.
More than 8,100 children have fallen victim to sex abuse during the five-year period ending 2016, according to statistics provided by the Ministry of Public Security at the conference on preventing child molestation in Ho Chi Minh City.
Speaking at the conference, many delegates did not fully agree with the given number of victims, believing that the figure is inaccurate due to several reasons.
Attendees explained that the first reason is that having a child who was sexually abused in the family is still considered a taboo by many older generations, so they tend not to report the case to the police and often deal with the offender privately.
The second reason is, according to delegates, many families dare not to sue the offenders as they are threatened or fear of not having sufficient evidence.
Many families falling victims to child molestation were invited to speak at Friday's conference, but only one man summoned enough courage to come forward to share his story.
Coming from the southern Soc Trang Province, the father of a seven-year-old girl who was sexually abused by a close neighbor could not hold his tears while recollecting the tragedy of his daughter.
"My family is poor, so my wife and I have to work all day, leaving our little girl at home. We were devastated when knowing what happened to her," the father said.
"I hope that authorities can exact appropriate punishment on the offenders and protect children from being victims of sex abuse like my daughter."
Close relatives or known acquaintance are offenders
According to the police's statistics, the number of children falling victim to child sex abuse is on an increase trend and the age of the victims is also getting younger, compared to those of previous years. Some victims are even under six, and there were some serious cases in which the young victims got killed by the offenders afterwards.
A majority of child molestation cases happened in remote and rural areas, according to the conference.
Statistics taken from 2014 to 2016 show that there is an increasing number of child sex abuse happening in 15 provinces in southern Vietnam, including Ho Chi Minh City, with more than 1,000 victims.
During the first six months of this year, there were 805 cases of child sex abuse with 710 victims.
Of those 805 cases, 32 were in Hanoi, 29 in Ho Chi Minh City, 31 in Tay Ninh Province, 27 in Dong Nai Province, 30 in Kien Giang Province, indicating that the problem of child sex abuse occurs both in rural areas and big cities.
The statistics given at the conference indicated that two third of the offenders are close relatives or acquaintances of the victims.
"Most child sex offenders have close relationship with their victims such as teachers, relatives, or neighbors," said Colonel Nguyen Huu Su, deputy director of the criminal police unit under the Ministry of Public Security.
According to Su, as most of the child sex offenders do not have any previous criminal records, it is hard to track them down until multiple abuses take place.
Some of the predators get to know their victims through the Internet. They will make friends with the children by giving them presents or money, and sexually abuse them when the chance arises.
Many offenders seek naïve teenager girls in rural areas, sexually harass them, and later sell them to brothels.
Advice from experts
Many delegates advised parents to be cautious when their children receive gifts, money, or items such as cell phones from strangers.
Nguyen Thi Le Quyen, a representative from the Women Association in Phuoc Hung Ward, in Ba Ria City, in the southern Ba Ria – Vung Tau Province, said that parents should also play an important role in educating their children on how to protect themselves.
Children should be taught to know their sensitive or private parts on their bodies and not to let strangers touch those areas.
Parents should also tell their children not to make contact with strangers without their knowledge or presence.
Other advice includes instructing children how to shout for help, run to public places, or get away from the attackers.
Parents are advised to befriend their children and teach them how to openly and regularly share their feelings, experience, and emotions with them.
By doing so, parents get to know the world around their children and can prevent any misfortunate incident of sex abuse happening to their loved ones./.
VNF/Tuoitrenews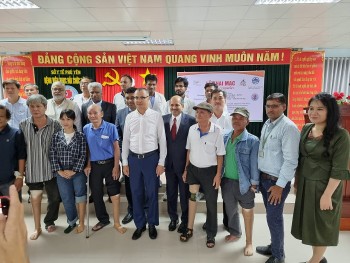 Friendship
This is the 5th time the Jaipur Foot Artificial Limb Fitment Camp has been held in Vietnam since 2018 by the Indian Ministry of Foreign Affairs, Indian agencies and organizations.