Discover world's most funniest towns' name
2. Halloween theme:
(VNF) - "Are you going to Hell?", "My boyfriend is from Dog Town", "We are reaching Popcorn Town", yes, sometimes people are neither kidding nor insulting you when mention those places - they do exist in real life.
Let's join us in a special trip to discover some of the world's most impressive towns and streets' name.
1. Animal theme:
Chicken Town really exists in the United States. Which state? Kentucky? Sorry, it is not, we are not talking about your favorite KFC. Chicken Town is actually located in Alaska state.
The story behind its name, actually do not have very close relation with this animal.
(Photo: Youtube)
According to the Reader's Digest, initially, local people intended to name their town after the popular species of game birds named "Ptarmigan". Unfortunately, eventually no one could agree on how to spell it, so they went with Chicken instead. Chicken is also bird, right?
The list of animal-theme places in US also includes Dog Town (Alabama), Pigtown (Brooklyn), Bulltown (West Virginia) and so on.
Don't you dare walk through the Deadman Crossing? Don't be scared, it is only an ordinary town in Ohio, US.
Located 50 miles south of Columbus, it's often abbreviated Deadman Xing. The origin of the name is unclear, but there are six cemeteries within a two-mile radius of the town.
Sometimes, the name of a town does not have any relation with its characteristic, but sometimes, it does show the world its specialty, for instance, the Popcorn town in Indiana.
Popcorn town is home to the famous popcorn brand named after the town. The Popcorn, Indiana brand sells original kettle corn, wasabi flavored popcorn and chips flavored with classic salt, white Cheddar, Buffalo wing, and jalapeño ranch.
4. Alphabetical name:
( Phi Yen )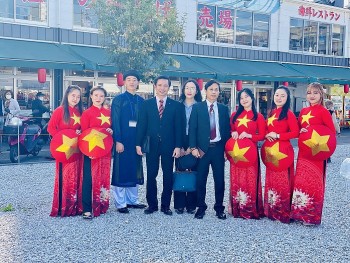 Overseas Vietnamese
The Kochi-Vietnam Cultural Exchange Festival has been organised in Kochi Prefecture, Japan, recently for first time in an effort to boost cultural exchanges and cooperation between the two countries.