Ease of doing business: Vietnam plans big push to catch up with Singapore, Thailand
(VNF) - The goal is to cut half the time needed for business registration and simplify customs procedures this year.
(VNF) - Vietnam will strive to cut half the amount of time needed for business registration as well as simplify customs procedures.
The country wants to improve its business environment in order to shoulder with regional top four economies namely Singapore, Malaysia, Thailand and the Philippines (ASEAN 4) as ideal location to start a business.
According to the recent economic plan for 2017 by the government of Vietnam, the country should strive to enter the list 70 best countries with ease to start business, top 80 in terms of best protection of minority investors, and the top 30 in terms of transparency and access to credit assessed by World Bank (WB).
According to WB's ease of doing business index, Vietnam was ranked 82nd out of 190 economies globally in 2016.
By the end of this year, the country should cut down the time required for business registration by half: from six days to three days; while the number of hours spent on tax and social insurance procedures should be reduced to 168 hours per year.
At the same time, Vietnam also work toward shortening the amount of time of dealing with construction permits to below 120 days. Customs clearance will be simplified so that it will take only 70 hours for exports and 90 hours for imports, instead of 10 days last year./.
( VNF/VNE )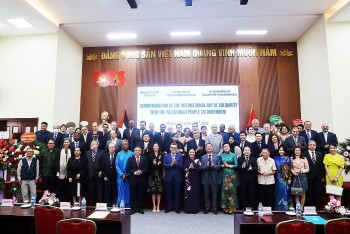 Focus
The Vietnamese people support the righteous struggle of the people of Palestine for independence and freedom.