Experts condemn school violence
Cameras should be installed in all school classrooms to supervise and prevent violence in schools, Colonel Phạm Mạnh Thường, deputy director of the Criminal Police Department under the Ministry of Public Security, has proposed.
The education sector should give priority to providing these skills and set up a long-term strategy to prevent school violence. — Photo laodongthudo.com
His proposal was mentioned during a debate on school violence held by Tiền Phong (Vanguard) newspaper on Monday in Hà Nội.
Thường said that cooperation between schools, families and students was very important, and students must be taught communication skills so they can inform their friends and teachers about these problems.
Providing instruction in classes was not enough, he said.
A total of 310 cases of school violence were reported in the first three months of the year, according to the Ministry of Public Security.
Speaking at the debate, Đặng Hoa Nam, director of the Department of Child Affairs under the Ministry of Labour, Invalids and Social Affairs, said that cases of school violence had previously been concealed behind the gates of schools and classrooms.
Now, with support from the media and high-tech devices as well as social media, transparency about many cases has improved.
If the laws would have stricter regulations, residents' faith in the system would be strengthened, he said.
"Violence against classmates seriously hurts them physically and harms their human dignity. This is a warning," said Nam.
The national hotline on child affairs (111) has worked with authorities in the northern province of Hưng Yên to support a student who was a recent victim of school violence.
On March 22, five unnamed ninth graders at a school in Hưng Yên Province stripped a classmate off her clothes and brutally hit her on the face and chest.
No one intervened to stop the assault, but it was captured in a 40-second video by another student and was circulated on social media.
When they learned about the incident a day later, the school administration suspended the five students for a week and ordered the video to be deleted. On March 25, the parents of the five students apologised to the victim's family at a school meeting.
However, her family later accused the school of not promptly providing accurate information about the assault, and called for authorities to investigate the school's attempts to cover up the shocking incident.
Since March 28, she is being treated for acute stress disorder at Hưng Yên Mental Hospital.
The case has come to the notice of government officials, including Minister of Education Phùng Xuân Nhạ, who has ordered a thorough investigation and punishment for all responsible parties.
Director Nam said that teachers, besides teaching basic knowledge, should supply students with skills to cope with problems in society.
The education sector should give priority to providing these skills and set up a long-term strategy to prevent school violence.
Bùi Văn Linh, deputy director of the Department of Student Affairs under the Ministry of Education and Training, said that school violence was a problem in every country. Recently, serious cases have occurred in Japan and South Korea.
Students are at an age when many changes occur, both physically and psychologically, and, thus, they sometimes cannot control themselves. This, together with pressure to study, can lead to violence, he said.
All ministries and sectors are of the same opinion that school violence must be condemned, and students must be provided a safe school environment, Linh said.
VNF ( VNS )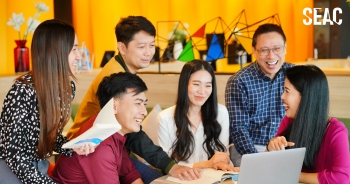 Economy
SEAC, a leading corporate and lifelong education innovator, is shaking up the Thai and ASEAN education market with significant investment to expand its SMART learning solutions across the ASEAN region.