Hapro: Commodity volume for Tet to rise 10%
The Hanoi Trade Corporation (Hapro) spent more than VND1.2 trillion stockpiling commodities for the Lunar New year (Tet) 2015, up 10% rise compared to the previous Tet, said Hapro's leader in a recent meeting with the press.
Main commodities sold at Hapro supermarkets during Tet 2015 will be food, foodstuff, seafood products, confectionary, souvenirs, household goods, clothes and electric products.
Almost two weeks before Tet, Hapro will extend store-opening hours until 21:30 pm. On the 28th and 29th days of the lunar December, the opening time will be extended until 22:00 pm.
On the first, second and third days of the holiday, the company will ensure that at least five sale locations around Hanoi will be operated to meet people's demand.
Twelve days before Tet, Hapro will organise 80 outdoor kiosks to provide Tet specific goods.
Three sale locations under the "Tet fair" model will be arranged from lunar December 22nd-26th. In addition, the company will organise 41 locations of selling price stabilization goods around Hanoi during the Lunar New year./.
Compiled by VNF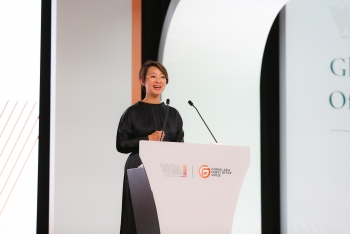 Economy
At WMI's inaugural Global-Asia Family Office Summit (GFO Summit) held at Sands Expo and Convention Centre, WMI today announced its plans to augment its training and community-building initiatives to pave the way for 5,000 enrollments of family office ecosystem participants into its programs by 2025.