HCMC connects overseas Vietnamese up to national sea, island sovereignty
The Overseas Vietnamese Committee of Ho Chi Minh City yesterday hosted a seminar on the role of overseas Vietnamese to the country's sea and island sovereignty with the attendance of former Vice President Truong My Hoa and overseas Vietnamese from many countries.
Mr. Hoang Chi Hung (L), chairman of the Press Photo Club under HCMC Journalists Association gives delegates at the seminar photobooks on sea and islands (Photo: SGGP)
Chairman of the committee Phung Cong Dung said that overseas Vietnamese has conducted many practical activities towards the country's sea and islands. Of these, Mr. Tran Thang from the US collected and gave Da Nang city hundreds of old maps published by many nations in the world showing that Hoang Sa (Paracel) and Truong Sa (Spratly) islands are located in Vietnam's territorial waters.
Informing delegates of the Club "For beloved Hoang Sa-Truong Sa", former Vice President Truong My Hoa, who is chairwoman of the club, said that the club has regularly supported over 110 students who are children of fishermen and coast guard officers and soldiers so that they can set their minds at rest to continue going out to sea.
The club's acting as a bridge between the mainland and sea and islands has been joined by many domestic and abroad Vietnamese people. Replying to the question about how to protect sea and islands amid the current context, Ms. Hoa said that it does need the solidarity and practical participation from each person.
Sharing his way to contribute for Vietnamese sea and island sovereignty, Mr. Nguyen Trung Kien from South Korea told that the time when he arrived in Truong Sa was historic days in his life, witnessing the difficult life of soldiers and residents on the islands and DK1 platform, an important economics-science-service complex at sea in the country's southern continental shelf. After the trip, he and Professor Dr. Tran Hai Linh discussed ways to connect many 'hearts' towards Truong Sa.
In 2015, the Fund "For Vietnamese sea and island sovereignty" in South Korea was open and had the first practical project in the following year to take solar power system to Truong Sa. The meaningful and practical project has been maintained and developed attracting the attendance by not only overseas Vietnamese from South Korea but also from 20 nations. So far, the fund has equipped solar power systems for 23 places in islands and DK1 platform.
From his story, Mr. Kien said that to promote the role of overseas Vietnamese to sea and islands, the Party and State should sufficiently supply information and images about national sea and islands at the earliest.
"Official information supply must be sooner than that from unofficial channels. That is an efficient, practical and fastest spreading way to young overseas Vietnamese," said Mr. Kien.
Journalist Do Thien, head of the International Department of Phap Luat (Law) HCMC Newspaper, suggested paying attention to official information supply to prevent the imbalance between official and unofficial information, providing more information about the East Sea to young people studying abroad, facilitating young overseas Vietnamese's visit to Truong Sa to help connect them and national sea and islands.
Mr. Nguyen Tuan, deputy director of the Department of External Affairs in HCMC, said that it is needed to publicize all reasoning and messages in fighting for the sea and island sovereignty so that domestic and overseas Vietnamese can understand the Party and State's point of view and policies.
Mr. Steve Bui from South Korea proposed to mobilize brainpower and property contributions by domestic and overseas Vietnamese to improve material infrastructures in islands.
"We are willing to contribute now," he stressed.
VNF ( SGGP )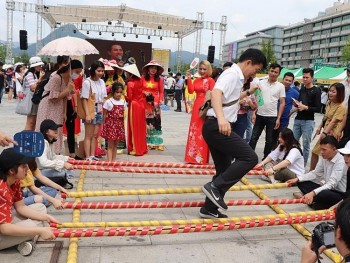 Focus
Vietnam Days Abroad is an annual national promotion program hosted by the Ministry of Foreign Affairs since 2010.