Ho Chi Minh City to boost waterway tourism
Ho Chi Minh City is stepping up efforts to boost waterway tourism potentials in the next five years.
(VNF) - Authorities in Ho Chi Minh City are keen to develop inland waterway tourism into one of its key attractions by 2020.
Last week the municipal People's Committee requested its Department of Tourism to take measures to improve the city's waterway tourism.
The committee also ordered competent agencies to finalise legal documents for managing private wharves which offer tourist services.
The city has set itself a target of increasing the number of waterway tourists by 20 per cent annually and the revenues from such tourism activities by 30 per cent.
To realize the target, the city has embarked on waterway tours to the Mekong Delta and even Cambodia along with medium-range tours to its outlying districts of Cu Chi and Can Gio and short trips along canals with stops in Districts 8, 2, and 9.
The tours have been heartily welcomed by both local and foreign tourists, according to local authorities.
Every year approximately 15,000 foreign tourists join the Cu Chi tour, which is part of longer tours to the two neighbouring provinces of Binh Duong and Tay Ninh.
This year the city plans to build or upgrade 45 wharves to house tourist boats, develop 65 tourism spots in districts connected by rivers and build three community tourism sites in its suburban districts of Cu Chi, Can Gio, and 9.
The Department of Tourism has also urged the Saigon Boat JSC to accelerate its purchase of boats for tourism purposes on the Nhieu Loc – Thi Nghe canal system, which is expected to start on Vietnam National Day (September 2).
This tour promises to appeal greatly to tourists for its novelty and excitement.
The department said the company should invest in 10 boats that should be large enough to be venues to traditional music and dance performances.
The city expects its two canal tours – the other one being on Tau Hu – Ben Nghe, which is already operational — to take visitors through old areas of the city which boast unique architecture and intriguing places of interest.
The Saigon Boat JSC said for the nine-kilometre Nhieu Loc – Thi Nghe tour, it would get 10 southern-style boats that are a meter tall and have 20 seats. The canal runs through Districts 1, 3, Tan Binh, Phu Nhuan, and Binh Thanh.
The boats will leave from a wharf near Thi Nghe bridge in Binh Thanh district and dock at a wharf near Khmer Pagoda on Hoang Sa street in District 3.
Tourists will be pampered with performances of flute, dan tranh (16 chord zither), and UNESCO-recognized don ca tai tu (southern amateur traditional music) performances and delectable southern specialities.
Apart from conventional tours along rivers in HCMC, over recent years, the affluent and better-off in Ho Chi Minh City have also cruised on their own jet skis, recreational boats and yachts, which may cost a whopping US$4 million apiece, or hire one for their own inland waterway trips.
It takes a few hundred million dong to dozens of billions of dong to own such sumptuous boats (VND1 million = USD46)./.
by VNF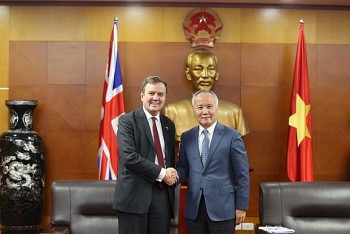 Economy
UK ready to boost CPTPP's economic firepower, said the Trade Minister on Vietnam visit