Hope found in sweat and soil
"Conservation – Sustainability - Fairness – Transparency", Rudolf Lüthi – Head of Agribusiness and Rural Development Department, HELVETAS Headquarter, BioTrade project implementer In Vietnam, herbs have been used to cure diseases for thousands of years. However, the majority of Vietnamese native herbs are either underproductive or overexploited.  Consequences are resources of natural herbs are dwindling, manufacturers of herbal medicines have to import herbs (mainly from China); and since they can only afford low graded herbs, they cannot be certain of the origin or quality. This reality is calling for action: herbals plants and traditional knowledge need conservation, consumers need access to good quality herbal medicines, and people in possession of the natural resource and the traditional knowledge need to make profit out of what they have for them to protect it. And that is the very reason why our project is on point. We bring in BioTrade concept that applies to value chains sourcing from nature. Criteria of BioTrade include conservation of nature, financial and social sustainability, fairness, and transparency. "We don't do one-size-fits-all", Cuong Vien – BioTrade Project Manager In BioTrade project, we aim at manufacturers of herbal medicines all over the country as they have the necessary resources as well as the motivation to develop sustainable value chains of herbs. I think it's worth mentioning that all of our interventions are carefully customized to the needs of companies. We don't do one-size-fits-all because each of our companies is at a different stage in the development toward sustainability, and have different objectives. Until now, we have established partnership with 29 small/medium enterprises to develop 38 value chains of natural herbs. More than 3000 farmers have benefited from these value chains: they received trainings on sustainable farming of herbal plants, they were supported with production materials, and engaged in long-term contracts with stable pricing for their herbs.
Returning to nature is an emerging trend in the world as well as in Vietnam. Customers are increasingly interested in natural based products, especially when it comes to food, beauty and pharmaceutical products.
The article featured on the Vietnam News (source: Helvetas VN)
Project "Scaling up of BioTrade initiatives within phyto-pharmaceutical sector in Vietnam" by Helvetas was designed to help Vietnam solve the challenges of decreasing natural resources, to put in place an effective model of genetic resources and biopersity management, and to balance out the economic benefits and social needs with the conservation needs. The Vietnam News has recently interviewed several 'insiders' about this trend.
Photo for illustration (source: Helvetas VN)
"Such significant example", Nguyen Thi Hue – Head of Agricultural Extension Center, Bac Ha district, Lao Cai province
Back in 2010, when we first introduced herbal plants in Bac Ha, everybody was skeptical. People here are mostly ethnic and only used to growing rice and maize. Together with a company, we came to every family, talked to them, and persuaded them to try. We gave them seeds and seedlings, fertilizers, all materials and showed them how to grow herbs. Only ten families agreed to try back then, each family half a hectare. But when the harvest came, those ten families got paid and after deducting all expenses, they made 3 -4 times more than growing rice and maize.
It has been a long way since then. Now there are more than 200 households in Bac Ha are growing herbs. BioTrade project helped connect us to some new companies, so we hope to expand in coming years. The project organized various trainings for our farmers, so from technical side we're confident.
Bac Ha set such significant example in the province that local district government is determined to make herbal plants one of the priorities for agricultural reform toward sustainability.
"Our customers trust us", Le Thi Tuyet Anh – Director of Vietroselle company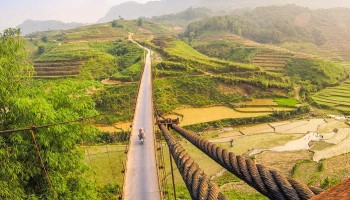 Travel
Visitors rate the 7 most amazing roads in Vietnam, weaving through mountains, jungles, and beaches, according to Lonely Planet magazine.