Iran urges UK to release Grace 1 oil tanker soon
Iran has said that the UK might set the Grace 1 oil tanker free on Tuesday after over a month seizing with the accusation of breaching EU sanctions by delivering oil to Syria. 
Iran urged the UK to free the Iranian oil tanker Grace 1 which was captured in Gibraltar on July 4 for violating EU sanctions soon on Tuesday.
Iran's oil tanker Grace 1 (photo: Euronews)
As Iran's IRNA state news agency reported, Jalal Eslami, the deputy head of Iran's Port and Maritime Organization demanded "Britain is interested in releasing Iran's oil tanker Grace 1…following the exchange of some documents, we hope the release will take place soon".
He also added "The vessel was seized based on false allegations ...it has not been freed yet".
After receiving the words from Iran, Gibraltar's authority expressed its hope to ease the row with Iran. A Gibraltar's spokesman said "We continue to seek to de-escalate issues arising since the lawful detention of Grace 1".
However, the UK has not confirm the release of the Iran's Grace 1 oil tanker yet and said "The investigations being conducted around the Grace 1 are a matter for the government of Gibraltar".
Far News even shared the information that the Grace 1 oil tanker will be released by Tuesday evening. In contrast, the Gibraltarian government affirmed that report was incorrect.
The tension on oil tanker, related to Iran has not been de-escalated since the UK captured the Iran's Grace 1 oil tanker in Gibraltar on July 4 and Iran retaliated by seizing Stena Impero oil tanker of the UK.
Moreover, Iran recent seized the new foreign oil tanker with 7 crew members near Farsi Island, a territory of Iran in the Gulf as smuggling fuel. Though Iran announced the oil tanker belonged to Iraq, Iraq denied these Iran's words.
Aljazeera, Reuters ( Van Nguyen )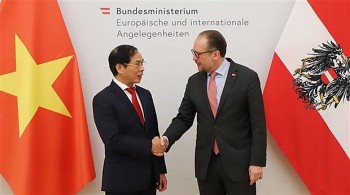 Overseas Vietnamese
Fifty years have passed since the establishment of the relationship, the two countries have enjoyed great strides in bilateral cooperation.