Japan enhances functions of agricultural cooperatives in Vietnam
(VNF) - This July, the "Enhancing functions of agricultural cooperatives in Vietnam, Phase II" project supported by the Japan International Cooperation Agency (JICA) will be completed.
(VNF) - This July, the "Enhancing functions of agricultural cooperatives in Vietnam, Phase II" project supported by the Japan International Cooperation Agency (JICA) will be completed.
It has been implemented for three years, aimed to setting up a sustainable system to support agricultural cooperatives (AC)' development through provision of training courses on mid-term planning, joint marketing business, joint purchasing business and internal credit business in five target provinces (Thai Binh, Hoa Binh, Hai Duong, Binh Dinh and An Giang), for enhancing functions of ACs which can lead to improvement of living standard of member farmers.
Litchi harvesting in Hai Duong province.
Phase I of the Project (2006-2010) aimed at building up the model of AC which are able to handle the farmer's needs in two pilot northern provinces.
At present, in agricultural production, almost of Vietnamese farmers still purchase their production materials such as fertilizer, pesticides at private shops and agents. Supply chain of agricultural materials is conducted through many intermediate levels, thus farmers may have to buy production inputs at rather high price and with unstable quality. Besides, after harvesting, the farmers have to sell their farm produce directly to buyers (traders, companies) at a low price for many reasons: small-scale and fragmented production, small output, uneven quality and unstable delivery time.
In this context, cooperative model is indispensable in agricultural development to link household economy with large-scale production, improving the competitiveness of agricultural produces and increasing income of AC's member farmers. Under the new Agricultural Cooperatives Law, the ACs are expected to deliver services to their members based on the accurate farmer's needs. However, the majority of the ACs still keep focusing on traditional activities of the old ACs like agricultural production without implementing necessary business in the market economy due to lack of experience and skills.
During Phase II implementation, the Project has given lots of training courses with the aim of equipping the target ACs with necessary knowledge and skills on providing ACs services to their members. In addition, it has developed the network of capable additional Central-level Instructors from North to South including Vietnam Cooperative Alliance (VCA), Southern Center for Support & Development of Cooperatives, Small and Medium Enterprises (SOCENCOOP), Can Tho university and Hue university based on the agreement with the Ministry of Agriculture and Rural Development (MARD) to expand the possibility of providing those four subjects of training courses to other ACs nationwide and concerned people in other provinces.
Recognizing the necessity and importance of four training materials developed by the Project, the MARD has decided to integrate these four training subjects into MARD's training framework for managers of cooperatives and cooperative groups in agriculture, thereby resulting in further development of ACs capacity in the coming time. MARD, in cooperation with the Project, is also completing to formulate the Guideline for the curriculum of the four subjects, along with developing case study book of ACs in Vietnam.
Capacity and functions of pilot ACs and other trained ACs will be enhanced, contributing to the development of agriculture sector, increasing the quality of farm produce to meet market requirements. Besides, the ACs will step by step be familiar with doing their production and trading activities based on contract - one crucial promoting factor for the development of contract-based agriculture, establishment of value chain, contributing to increasing of product's added value and improvement of living standards of farmers./.
( VNF )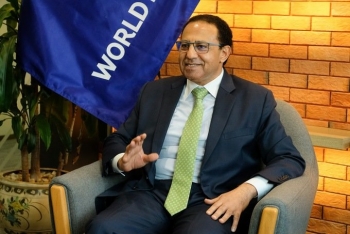 Economy
Vietnam's agriculture is transforming from quantity targets towards profit, environment and farmer income targets. Ahmed Eiweida, Vietnam Sector Leader for Sustainable Development (World Bank).