Japanese firm chooses Vietnamese employee as successor
With the survival of Japan's medium, small, and micro-sized businesses threatened by a lack of next-generation leaders, the president of a company that processes specialty paper here has appointed a Vietnamese manager as his successor.
Nagao Shiko president Yasutaka Nagao, right, poses with Nguyen Duc Truong, a Vietnamese employee who was chosen as Nagao's successor, in Nagoya's Nishi Ward, on Feb. 5, 2019. (Mainichi/Hitomi Saikawa)
"As long as there are customers, I have a responsibility to continue the company. I'm relieved we have a clear idea of who the successor will be," stated Nagao Shiko president Yasutaka Nagao, 72, who runs a factory in Nagoya's Nishi Ward that employs six people.
It is extremely rare for such firms, mostly run by families and relatives, to choose a foreign successor. This particular case is being noted as a pioneering approach amid Japan's increasing dependence on foreign workers.
Nagao established the company in 1969 after graduating from university, reviving a business that his father had shut down. Most of the company's orders used to consist of laminated sheets for disposable diapers, but this category shrank drastically as manufacturers shifted production overseas.
However, Nagao Shiko has done a brisk business with automakers and food industry firms that depend on the company's high technical skill. The company now produces laminated film used in car batteries and in the process of making packed meals sold in convenience stores, and is performing well.
Nagao began considering a successor in his mid-60s. His eldest son works elsewhere and was not interested in taking over the company. After much thinking, the next person that came to mind was 34-year-old factory manager Nguyen Duc Truong from Vietnam.
Truong came to Japan in 2005 as a technical intern and acquired permanent resident status after marrying a Japanese woman. He found the company through a "Hello Work" employment office and joined in 2008. Although he lacked experience, Truong had skillful hands and learned multiple tasks. The 34-year-old earned Nagao's absolute trust through his vigorous approach to the job, overhauling broken machines, repairing a leak in the factory, and doing expansion work all by himself.
When asked by Nagao several years ago if he wished to take over the company, Truong was surprised and also felt a lot of pressure. "But I was glad that (Nagao) had placed so much trust in me, and I made up my mind to protect the company," Truong recalled.
Some 95 percent of medium, small, and micro-sized businesses are said to be family-run, and are faced with the urgent question of who will take over from the present generation of leaders. According to a 2016-2017 Tokyo Shoko Research survey targeting 4,303 medium and 3,984 small firms, 30.9 percent of medium and 32.4 percent of small companies said they did not have a candidate for a successor or had not decided what to do about a successor. Some 2.1 percent of medium and 17.2 percent of small companies said that the present generation would be the companies' last.
Waseda University Graduate School of Business and Finance professor Hirokazu Hasegawa, an expert on business succession, pointed out, "If (a business head) can't find a successor among their relatives, it's natural to choose an employee that they trust, regardless of their nationality. However, personal surety issues surrounding debt obligations and loan financing constitute a limiting factor."
Hasegawa added, "Companies need to start new lines of business that fit the times in addition to maintaining existing enterprises to make the president's job promising and appealing for successors."
Nagao intends to "work as long as I am physically sharp," but he has high expectations for Truong. "It's job performance and personality that counts. I can't ask anything more from him as a successor."
VNF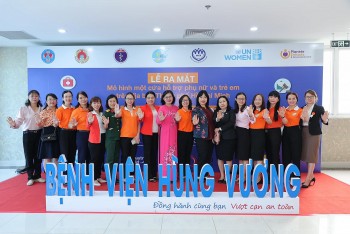 Viet's Home
What is the one-stop centre for women and children experiencing violence?