Latin American Film Week opens in Hanoi
The fourth Latin American Film Week will take place in Hanoi from October 24th-29th at the National Cinema Centre (87 Lang Ha Str., Hanoi).
(VNF) - The fourth Latin American Film Week will take place in Hanoi from October 24th-29th at the National Cinema Centre (87 Lang Ha Str., Hanoi).
The week will present a selection of nine films from nine countries – Venezuela, Chile, Colombia, Mexico, Uruguay, Panama, Cuba, Argentina, and Peru, including international award-winning pieces and featuring some of the most exciting and creative productions to reach the big screen in recent years.
Films screened feature many categories – mainstream, comedy, cartoon, documentary and history and among others – displaying social life, cultural characteristics of each nation and help Vietnamese understand the cultural persity of Latin America.
Tickets are offered free by embassies.
Films in the program:
Historias de Fútbol (Soccer Stories) from Chile.
Time: October 24th, 19:00
Soccer Stories uses this incredibly favored sport to explore a perse Chilean geography and culture and link three Chilean lives: a third-pision player from Santiago de Chile is handed a life-changing offer; a boy living in the Calama Desert must face making a bold sacrifice; and a football fan stuck in a remote corner of the southern island of Chiloé is given an unexpected chance to experience another kind of passion.
El abrazo de la serpiente (Embrace of the Serpent) from Colombia.
Time: October 25th, 18:00
Filmed in stunning black-and-white, the film centres on Karamakate, a shaman and the last survivor of his people, and the two scientists who, over the course of 40 years, build a friendship with him. The film was inspired by the real-life journals of two explorers, Theodor Koch-Grünberg and Richard Evans Schultes, who travelled through the Colombian Amazon during the last century in search of the sacred and difficult-to-find psychedelic Yakruna plant. In 2016, Embrace of the Serpent was the first Colombian film ever to be nominated to the Academy Awards for Best Foreign Language Film.
En el ombligo del cielo (In the Middle of Heaven) from Mexico.
Time: October 26th, 18:00
A young executive, Andrea, gets stuck during a weekend on the roof of the building where she works in the company of Gualberto, a cleaner. True castaways in a sea of concrete and glass, the characters reflect on their lives and their scale of values. The film sets out to show us that we are human beings with emotions and sensibilities that are common to us all, independent of social class. These feelings bring us closer to each other and allow us to grow.
A scence in "In the Middle of Heaven".
Artigas: La Redota (Artigas: The Exodus) from Uruguay.
Time: October 26th, 20:00
In 1884, the famous Uruguayan painter Juan Manuel Blanes is commissioned to recover the face of a legend. Blanes must imagine what Jose Artigas looked like by reading up on his ideas and learning about hhis life. Amongst the different materials he is given in order to discover Artigas' features he finds the notes of an old Spanish spy, Anibal Larra, hired by the Argentine triumvir to kill Artigas for refusing to succumb to the dominance of Buenos Aires. At the time, Artigas was hiding out in Ayui, to the north of what is known today as Uruguay. Blanes understands what the feature that defines his portrait is: a utopia that went further then what his contemporaries ever imagined.
Rompiendo la ola (Breaking the wave) from Panama.
Time: October 27th, 18:00
The fate of three youngsters gets melded between life in the sea and the harsh reality of life on land. Oli, Cholito, and Deivis are three humble surfers from Santa Catalina, a small fishing village on the Panamanian Pacific coast. In the struggle to be at the top of the surfing world they face economic limitations and a stigma that is prevalent in the world of high performance athletics.
Azul y no tan rosa (Blue and Not So Pink) from Venezuela.
Time: October 27th, 20:00
Diego is a young and successful photographer who lives in the glamorous world of fashion. One day, his life of shallowness and excess changes, as a tragic accident turns his world around when his partner is hurt and falls into a coma. In this new and troubling reality, Diego must take care of his partner's son, Armando. Now, both of them have to adapt to each other; Armando to the unknown world of his gay father; Diego, to the closed attitude of his partner's moody teenage son. A touching and surprising drama of family dynamics, BLUE was a smash hit at the 2014 Chicago Latino Film Festival. BLUE was also the winner of Spain's prestigious Goya Award for Best Iberoamerican Film of 2014, the first Venezuelan film to do so.
Azul y no tan rosa (Blue and Not So Pink).
Habanastation.
Time: October 28th, 18:00
The Cuban feature film is experiences of two classmates during May 1st. A story that reveals different sides of the Cuban reality, from the everyday life of a couple of kids in Havana today. Ink is a slum imaginary name, next to the Plaza of the Revolution. This will be the main stage where Mayito, a well-behaved boy, discovers another Cuba well away from his luxurious home in Miramar, and where his fellow schoolmate Carlos lives. After getting lost during the May Day Celebration, Mayito comes by accident to this peripheral community and has hitherto found it totally alien.
Sin Hijos (No Kids) from Argentina.
Time: October 28th, 20:00
The third highest grossing Argentinian film of 2015, this delightfully energetic comedy centers on Gabriel a porced father who dotes on his 9-year-old daughter Sofía. Their relationship is disrupted when he falls in love with former high school crush Vicky. Only one problem: she hates kids. So Gabriel begins to jump through hoops as he attempts to hide any trace of his daughter's existence every time Vicky visits him.
A scence in No Kids.
Rodencia y El Diente de la Princesa (Rodencia and the Tooth of the Princess) from Peru.
Time: October 29th, 10:00
Rodencia y El Diente de la Princesa is a 3D Animation Film. A magical adventure begins once upon a time, within a vast and wild forest there was a fantastic Kingdom called Rodencia, a place where wonderful creatures and powerful wizards lived. It's the story of adventures and love of a small mouse called Edam, a clumsy magician's apprentice and the beautiful and confident mouse Brie, who will have to face many dangerous obstacles in order to obtain the power of the princess's tooth and defeat the troop of rats commanded by the evil Rotex who invades Rodencia (the peaceful kingdom of mice), in order to dominates them and takes their treasure.
A scence in Rodencia and the Tooth of the Princess.
Minh Phuong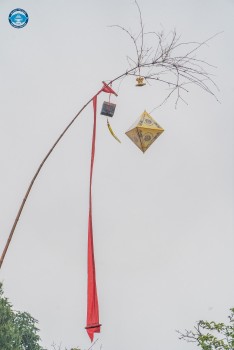 Viet's Home
In the past, the Neu pole (a tall bamboo pole with red garment strips used to ward off evil spirits during the lunar New Year) lowering ceremony at the royal palace of the Nguyen Dynasty was performed to mark the end of the New Year holiday and prepare to enter a new working year.