Lens captures French, Vietnamese dance
A new exhibition shows audiences the perspectives of eight photographers from France and Vietnam on contemporary dance in the two countries.
A new exhibition shows audiences the perspectives of eight photographers from France and Vietnam on contemporary dance in the two countries.
Dance performances in Vietnam and France are captured through the lens of talented artists from the two countries.(VNS Photo Bach Lien)
The Regards Croisés (Common Viewpoint) exhibition, curated by young artist Nguyen Kieu Linh, displays nearly 100 photographs and videos that document the art of contemporary dance in the studio, on stage, or in the solitude behind the curtains.
This exhibition is a sequel to another exhibition curated by Linh during the Dance Biennale 2016 in Lyon, France. Linh, who has lived and studied in Lyon since 2011, said she wanted to organise the exhibition because of her passion for photography and for dance.
"I also wanted to create a strong connection between the two regions to which I have a strong attachment, Hanoi and Lyon," she said.
"Contemporary dance combines harmoniously the supple body movements and the emotions in the soul of the dancers. I believe that a photo that captures the movements of the contemporary dancers can stir strong emotions in the audience. If dance is one of the specialties of Lyon, photography also made the name of the region and is a perfect tool to honour the art of dance," she said.
Photos capturing impressive French dance scenes.(VNS Photo Bach Lien)
Visitors to the show can admire original photos capturing beautiful moments of well-known dancers in the two countries, by eight well-known photographers from Vietnam and France.
One of them is Nguyen The Duong, who is one of the pioneers of time-lapse photos in Vietnam. He is particularly famous for photos of HCM City seen from above.
Tuan Dao is a professional photographer in Hanoi and was interested in taking photographs featuring movements. "Each movement of the artist, in combination with music and light, can create impressive artworks," he said.
French photographer Virginie Kahn specialises in taking photos of spectacles. She learnt to dance at a young age. Dance for her is liberation and a passion of movement.
Some of the artworks at the exhibition.(VNS Photo Bach Lien)
The other talented Vietnamese and French photographers include Trinh Xuan Hai, Tran Ky Anh, Jean Barak and Sylvain Mestre.
The exhibition, which is part of the Contemporary Dance: Europe meets Asia 2017 festival in Hanoi, runs until September 17th at l'Espace, the French Cultural Centre (24 Trang Tien Street, Hanoi). Free entry./.
VNF/VNS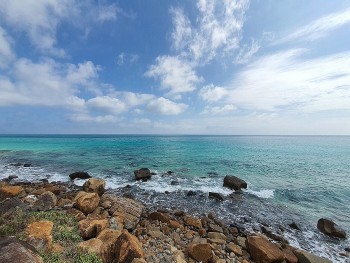 Viet's Home
Con Dao, a historical and famous island situating in the southern province of Ba Ria - Vung Tau, has been named among the top 16 best island vacations in the world, as compiled by tourism magazine Condé Nast Traveler (CNTraveler) of the United States.