LO-ANH foundation aids ethnic minority children in northern province of Ha Giang
The LO-ANH Foundation has offered help to nearly 300 children of Xin Cai Secondary School, located in one of the most remote districts in the northern province of Ha Giang.
The LO-ANH Foundation has offered help to nearly 300 children of Xin Cai Secondary School, located in one of the most remote districts in the northern province of Ha Giang.
The foundation has provided the school children with new shoes, clothes, blankets, mattresses and mats to keep them warm in the freezing cold that has engulfed the province since early this year.
Isabelle Muller, the founder of Lo-ANH Foundation, is welcomed by the students of the elementary school in Vo Thau Chai, Hoang Su Phi district in Ha Giang Province. The school has been extended within the project No.8 of the foundation. (Photo courtesy of Lo-ANH Foundation)
Established in May 2016, LO-ANH Foundation has undertaken 12 educational projects to date, including the construction and extension of many kindergartens, schools and boarding houses as well as providing financial care to poor ethnic children in the remotest areas in Ha Giang and Cao Bang Provinces.
LO-ANH foundation was founded by Isabelle Muller, a German woman with Vietnamese roots.
"LO-ANH Foundation (Loan Stiftung) is the brainchild of two very different life experiences: my own and my mother's," Muller says.
"In the 1930s, my mother Loan (Lo-Anh) was not allowed to attend school because she was a girl. Inquisitive and determined, and in search of freedom and happiness, she risked her life for an education. In 1955, she left her war-torn country (Vietnam). But even in France, her new home, she was subject to discrimination and hostility because of the colour of her skin. Despite living in abject poverty, she raised her five children, always emphasising education was a great privilege."
As Loan's youngest child, Muller had strong memories of those tough times when they had no beds and were treated cold-heartedly by other people because they were poor. She remembered it being difficult for them to maintain what little dignity they had left and battle the loneliness that had settled in their hearts.
"Yet, we came across strangers who changed us forever with their willingness to help. Their warmth gave us strength and nourished our hope that one day we wouldbe in a position to give back the kindness we had been shown and to help others in need," says Muller.
Isabelle Muller presentes Truong My Hoa, former Vice-President of the Socialist Republic of Vietnam and President of the Vu A Dinh Foundation with her mother's biography, Lo-Anh --- From the Life of a Phoenix. (Photo courtesy of Lo-ANH Foundation)
In the 1990s, Muller travelled a lot with her mother back to Vietnam, a mysterious country that her mother used to tell her about as a child, to help her learn more about her roots. It was then that Muller came face to face with the poverty of the northern areas.
"My mother came from northern Vietnam, which is why I wanted to focus the charity work in this area. Our ancestors belonged to ethnic minorities. Some 90 per cent of all Vietnamese minorities live in north Vietnam. I see it as a duty of all of us to keep the cultures of the minorities in the world alive, so that their knowledge and identity do not get lost," Muller says.
"Infrastructure here is almost nil, and the network of roads is underdeveloped," she adds. "I want to start charity projects where no one wants to go. I think accepting this challenge was a part of my Vietnamese character."
According to Muller, getting donations is hard work. "First, you have to believe in what you do and in the cause you defend. Then you have to convince others through authenticity to come along with you for the same goal," she says.
The first big donation came from Muller's husband. Other donations are raised from events that she organises, such as lectures of her new books or presentations of the foundation. She achieves this through networking and with the help of the press.
"I must emphasise that each donation to LO-ANH Foundation is 100 per cent used for project realisation. I finance all separate fees, including travel expenses or telephone bills, personally so that the donation money only goes to the poorest of children," says Muller.
Before accepting any project, Muller and other volunteers at the foundation have to gain an accurate picture of the current situation on-site to help them make well-founded, independent decisions. They also aim for a constructive collaboration of all parties involved and demand a transparent cost calculation.
"The gratitude in the eyes of the children and their families upon the completion of a project to better their lives is a great motivation for me," Mullersays.
The final donation comes from the royalties she gets from the sales of her mother's biography, Lo-Anh --- From the Life of a Phoenix¸ which has just been released in German.
In the book, Muller tells the story of how her mother found freedom for herself. A determined and rebellious girl from Vietnam, Lo-Anh escaped an arranged marriage at just 12 to set out on a long and often dangerous odyssey through Vietnam, France and Algeria to make a life for herself.
Isabelle Muller poses with children in the village of Sua Nhe Lu, municipality of Xin Cai, Ha Giang province who have been benefited from Lo-ANH Foundation. (Photo courtesy of Lo-ANH Foundation)
Muller says the Vietnamese version of the book will be published by Tre (Youth) Publishing House and presented at a press conference in Ho Chi Minh City in March, while its English version is finished and is waiting for a suitable publisher.
"As the founder of LO-ANH Foundation, I would like to consciously help shape our world and contribute my strengths where they are needed. I help children in need so that one day they might have the opportunity to take their lives into their own hands; I work for the disadvantaged children of today who are perhaps the founders of tomorrow. This fills me with immense joy," Muller says./.
VNF/VNS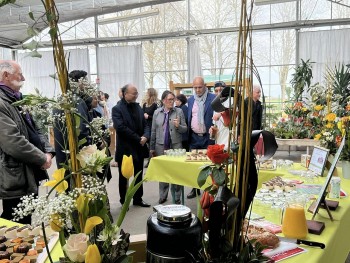 Overseas Vietnamese
Vietnamese Ambassador to France Dinh Toan Thang recently paid a working visit to Saintes, a city in southwestern France, to promote cooperation between the city and Vietnamese localities and attended the Vietnamese Culture Day, VNA reported.