Locals killed, missing as flashflood sweeps through northern Vietnam
Nine people were killed and 25 went missing after heavy rains and flashfloods devastated northern Vietnam over the past few days.
Nine people were killed and 25 went missing after heavy rains and flashfloods devastated northern Vietnam over the past few days.
A flashflood resulted in death, injury, and missing loved ones after sweeping through the region on Wednesday night and Thursday morning, leaving heartache and devastated infrastructure in its wake.
Yen Bai and Son La Provinces took the heaviest hit.
In Mu Cang Chai Town, Yen Bai, two residents were killed, while 13 others went missing and eight were wounded.
According to Nong Thi Mai, a 50-year-old local, floodwater poured into the neighborhood from Kim Noi Mountain at around 5:30 am while her family was still sleeping.
"I yelled at my family to wake up. We managed to run up a hill behind our house before the water and mud reached us," Mai recounted, adding that part of her residence was damaged in the storm.
A mobile phone store near a local stream was completely swept away with three people still inside while the house next door was completely devastated with its owner sent to the hospital and his wife and two daughters missing.
As of 7:00 pm on Thursday, Nguyen Van Khanh, vice-chairman of the Yen Bai People's Committee, was still at the scene to deal with the aftermath.
"This is the most devastating flashflood in the town's history. Nobody would have predicted that disaster would hit the center of Mu Cang Chai," Khanh stated.
Four schools were destroyed while 32 houses were swept away and 15 more damaged, bringing the total estimated damages to a whopping VND150 billion (US$6.6 million).
At a local healthcare center, 14-year-old Giang A Pao was being treated after the flood carried him five kilometers away from mountains where he and four friends had been herding buffaloes when the storm hit. He considers himself lucky to have survived. The friends he was with when the storm hit are still missing.
In Muong La District, Son La Province, six people were killed and 10 others still haven't been found, Ha Quyet Nghi, director of the provincial Department of Agriculture and Rural Development, said, adding that 144 houses were knocked down.
At It Ong Town in Muong La, a bridge and medical center were damaged, while roads and farms throughout the locality were ravaged by the storm, Nghi added.
Authorities in both provinces have ordered the immediate evacuation of all residents in the affected areas and mobilized all available human resources for search and rescue operations and victim support services./.
VNF/Tuoitrenews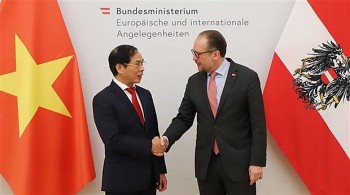 Overseas Vietnamese
Fifty years have passed since the establishment of the relationship, the two countries have enjoyed great strides in bilateral cooperation.