Lots of sleep tied to worse breast cancer survival odds
Women with breast cancer who sleep at least nine hours a night may be more likely to die from their tumors than patients who get just eight hours of rest, a recent study suggests.
Women with breast cancer who sleep at least nine hours a night may be more likely to die from their tumors than patients who get just eight hours of rest, a recent study suggests.
Compared to women sleeping eight hours a night, women who slept at least nine hours were 46 per cent more likely to die of breast cancer, the study found. After up to 30 years of follow-up, the women who got more sleep were also 34 per cent more likely to die of other causes.
"Sleep duration, but also changes in sleep duration before versus after diagnosis, as well as regular difficulties to fall or to stay asleep, may also be associated with mortality among women with breast cancer," said lead study author Claudia Trudel-Fitzgerald of the Harvard T.H. Chan School of Public Health in Boston.
"Given that long sleep duration has been associated with mortality among cancer-free inpiduals, as well as among breast cancer patients in recent studies including ours, it is possible that the relationship of sleep duration with survival also exists for other types of cancer," Trudel-Fitzgerald said by email. "However, further research is warranted."
For the study, researchers examined data on post-diagnosis sleep duration for 3,682 women with breast cancer. They also examined pre-diagnosis sleep duration in a subset of 1,949 women and post-diagnosis sleep difficulties in a subset of 1,353 women.
At diagnosis, women were 65 years old on average and most had what's known as stage one or two tumors, meaning malignancies hadn't spread beyond the breast or nearby lymph nodes.
At least half the women in the study were still alive 11 years after their diagnosis.
During the study, there were 976 deaths, including 412 caused by breast cancer, researchers report in the British Journal of Cancer.
Among the subset of women who had data on pre-diagnosis sleep duration, sleeping longer after their diagnosis was associated with 35 per cent higher odds of death from all causes and 29 per cent greater likelihood of death from breast cancer.
For the group of patients who had data on sleep difficulties, researchers found women who regularly struggled to fall or stay asleep were 49 per cent more likely to die from all causes than women who rarely or never had these issues.
The study wasn't a controlled experiment designed to prove that time spent sleeping directly influences survival after a breast cancer diagnosis.
Other limitations of the study include its reliance on women to accurately recall and report on their own sleep duration and quality, the authors note. It's also possible that breast cancer contributes to sleep problems rather than sleep difficulties increasing the odds of mortality after a cancer diagnosis, researchers point out.
"People who are sicker are more likely to be fatigued from their illness, be it breast cancer or other cause, and thus sleep more," said Cheryl Thompson, a researcher at Case Western Reserve University in Cleveland, Ohio, who wasn't involved in the study.
In the current study, patients who reported getting more than nine hours of sleep were also more likely to be obese and have more advanced cancer, Thompson said by email.
Some patients might sleep more because they get less physical activity, spend more time in bed, or experience more social isolation or depression, said Kristen Knutson, a researcher at the Center for Circadian and Sleep Medicine at Northwestern University's Feinberg School of Medicine in Chicago.
When patients do notice changes in how long or how well they sleep, it is worth discussing with their doctor, Knutson, who wasn't involved in the study, said by email.
"Sleep should be considered a vital sign," Knutson said. "Changes in sleep and excessive sleepiness are important signs that physicians can use to help care for their patients."
VNF/Reuters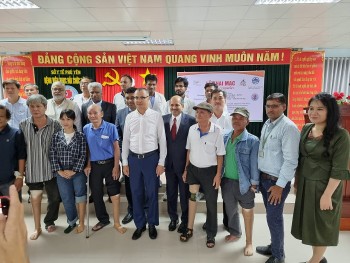 Friendship
This is the 5th time the Jaipur Foot Artificial Limb Fitment Camp has been held in Vietnam since 2018 by the Indian Ministry of Foreign Affairs, Indian agencies and organizations.