M&A boom could see 2012 record surpassed in 2015
Experts and investors see another booming year for M&A (mergers and acquisitions) in 2015 which is expected to beat the record of nearly 5 billion USD in value seen in 2012.
Experts and investors see another booming year for M&A (mergers and acquisitions) in 2015 which is expected to beat the record of nearly 5 billion USD in value seen in 2012.
ASEAN has been rising as an attractive destination for foreign investors in recent years. This is not only a huge consumer market with around 600 million people but also being favoured for its cheap and young labour market.
Furthermore, the establishment of the ASEAN Economic Community by the end of this year will create comprehensive economic integration among the 10 member countries. Vietnam is forecast to cash in on the movement of capital flows in the region.
The country is widely believed to be ready for a second wave of M&A, with the total value of transactions expected to reach 20 billion USD between 2014 and 2018.
According to a research of the M&A Forum 2015, total value of such deals in Vietnam touched almost 4 billion USD in 2014, an increase of about 20 percent over the previous year.
The average value of a transaction also rose from 5 – 8 million USD three years ago, to around 11 million USD in 2014. Most of the big deals involved foreign investments ranging from 20 million USD to more than 100 million USD.
Retail was still the most eye-catching sector with 36 percent of total value, followed by consumer products at 21 percent.
Speaking at a press conference on July 16 while introducing the Vietnam M&A Forum 2015 themed "Countdown to the Next Market Boom" slated for August 6 in HCM City, Nguyen Anh Tuan, editor-in-chief of the Vietnam Investment Review, the organiser of the forum, said M&A activities in Viet Nam this year and in the next five years would be happening in the favourable environment of a recovering economy.
Tuan said the country was speeding up its institutional reform and the legal framework for M&A was being completed with a series of important laws relating to investment activities having been amended such as the Law on Investment, Law on Enterprises, Law on Housing and Law on Real Estate Business.
The recent issue of the Decree 60 which allows higher foreign ownership limit in listed companies has also been highly appreciated by both domestic and foreign investor communities.
The process of bank restructuring and non-core pestment as well as acceleration of State-owned enterprises with a large number of corporations and large-scale enterprises being equitised this year and in the next five years would open up more opportunities for bigger M&A deals, he added.
According to Dang Xuan Minh, CEO of AVM Vietnam, co-organiser of the event, the rise of the private sector in Vietnam taking M&A as a strategy crucial to ensuring sustainable growth has added more dynamics to Vietnam's M&A.
Minh referred to a deal by VinGroup which has spent 560 billion VND (25.7 million USD) to buy Ocean Mart to develop its own supermarket chain VinMart.
He also noticed a new trend of rising investments from Thailand into Vietnam last year, which was different with the dominance of Japanese companies in M&A deals in 2012 and 2013.
Minh said many Thai companies were seeking to tap Vietnamese consumer markets which could be seen on their M&A deals, such as PowerBuy which took over Vietnamese electronics chain Nguyen Kim, and Berli Jucker Public Co Ltd (BJC) which acquired Metro's business in Vietnam.
According to Masakata Yoshida, CEO of Recof Corp, a Japanese M&A advisory service provider, deeper integration of the ASEAN community will bring both opportunities and challenges for Vietnam.
While the country could penetrate deeper in other ASEAN markets, it would be also exposed to more fierce competition for foreign investments. The removal of tariffs among these countries could stimulate the change of production bases of foreign companies, including Japanese ones, to other ASEAN countries, Yoshida said.
However, with a growing middle-class in Vietnam, Yoshida said many Japanese medium and small-sized companies showed their interest in Vietnam and planned to invest in sectors such as retail, restaurants, and financial services, apart from tourism, fast-moving consumer goods, e-commerce and logistics./.
VNF/VNA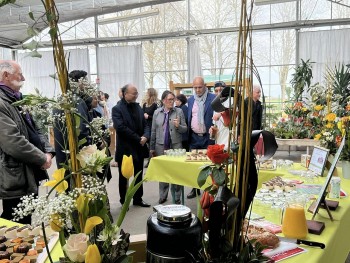 Overseas Vietnamese
Vietnamese Ambassador to France Dinh Toan Thang recently paid a working visit to Saintes, a city in southwestern France, to promote cooperation between the city and Vietnamese localities and attended the Vietnamese Culture Day, VNA reported.