Meaningful July of ADRA Vietnam
(VNF) - This July, eight young volunteers from New Zealand experienced 10 day trip in the meaningful project "Let's Shine" in Bao Lac (Cao Bang province).
(VNF) - This July, eight young volunteers from New Zealand experienced 10 day trip in the meaningful project "Let's Shine" in Bao Lac (Cao Bang province).
Carrying building materials uphills is not easy (photo: ADRA Vietnam)
The young volunteers travelled from New Zealand to Vietnam as part of the Adventist Development and Relief Agency (ADRA) Connections initiative which provides opportunities for volunteers to assist with humanitarian projects.
This project encourages ethnic minority students to not drop out of the primary education that will be very beneficial for their future, at the same time raises awareness of young generation about sanitation and hygiene to protect health.
The group spent 10 days in Vietnam (July 3 - July 12) and worked on the "Lets Shine" project located in Bao Lac (Cao Bang province), a very remote district in the northern moutainous area of Vietnam.
The volunteers mingling with local kids (photo: ADRA Vietnam)
Together with the local community and ADRA staff in Vietnam, they joined hands to support and upgrade three important school facilities which included the concrete pathway to the school, school courtyard and toilets for students and school staff.
The group also conducted an exchange programme with the children and donated sporting goods, stationery (pencil cases, pens, sharpeners) for the school, to support local students' study, as Bao Lac's majority of population are still coping with poverty.
(The two selected communes for the project which are Thuong Ha and Bao Toan of Bao Lac district, have 6 ethnic minority groups, 49% of the households in the area remaining in poverty.)
A voluntary project in the remote area of Vietnam will be an unforgetable experiece (source: ADRA Vietnam)
As part of a project that promotes household economic development schemes, Let's shine was also meaningful for the volunteers from New Zealand.
This is part of a member's takeaway from the trip. Mela Kaufusi, student at the Victoria University of Wellington, shared (via facebook):
"4,200 bricks, 2 truck loads of gravel, 1 truck load of rocks, 1 heavy cement mixer, bags of cement, 500metres of road to get past and we along with the ADRA Vietnam Team, Bao Lac district, managed to finish what we had set out to finish.
Never could I have imagined that a 10-day trip into a foreign country would change my entire perspective on life and on people. To watch an entire community come together for the common goal of creating an environment for their 38 kids to play in and be able to use a proper toilet has me in tears and my heart is content.
I finally have grasped the idea of what hard work is, I understand how blessed I am and how the little things that would usually be on my mind are so irrelevant. To see the loving environment, the gratitude, the purpose driven determination behind each and everyone of those people has me in awe. I have left a piece of my heart in Vietnam, and no matter where I go next, Vietnam, you will always and forever be in my heart. The people I have crossed paths with, the team I was blessed to work alongside, the villagers I was blessed by and the kids I played with have changed my heart and I thank you for the blessings you have given me on that short trip. I could never repay you for what you have given me."
Earlier, in June, 453 members of 15 community development clubs located in Bao Lac district, Cao Bang province participated in training classes that focus on disease prevention and disposal method for chicken flock.
ADRA Vietnam is part of the global Adventist Development and Relief Agency network, working to identify and address social injustice and deprivation in developing countries.
ADRA in Vietnam works with vulnerable communities, especially focusing on ethnic minorities, women, children and people with disabilities so to help improve their opportunities and quality of life.
At present, ADRA is implementing 7 projects and programs in 5 provinces of Vietnam: Can Tho, Vinh Long, Cao Bang, Thai Binh and Tay Ninh, in various projects, including Enhance community capacity in Community-based Disaster Risk Management planning and implementation, Community and Economic Development for Livelihood Improvement Project and Livelihood Improvement for Building Resilient Community Project (LIBRE)./.
( VNF )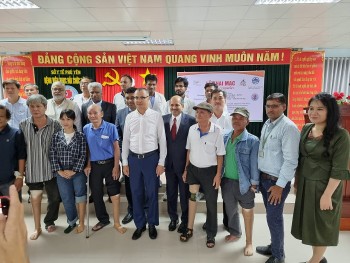 Friendship
This is the 5th time the Jaipur Foot Artificial Limb Fitment Camp has been held in Vietnam since 2018 by the Indian Ministry of Foreign Affairs, Indian agencies and organizations.