Memorable friendship trip to Japan of 12 Vietnamese students
Twelve Vietnamese teenagers just concluded their friendship trip to Japan, which was organised by the Hanoi Union of Friendship Organizations (HAUFO) and the Japanese conglomerate Kyocera Group.
The Vietnamese youths in Japan pose for photo with Japanese foster families. Photos: HAUFO
Twelve middle school students at grade 7 or grade 8 from Ha Noi, Hung Yen and Hai Phong spend seven days in Japan (from July 30 to August 5) within the framework of the exchange program between Vietnamese and Japanese students sponsored by Kyocera Corporation.
The tour included visits to Tokyo and Kyoto with a variety of programs to experience culture and life in Japan. During their stay, the children experienced Japanese traditional culture by visiting Asakusa Shrine as well as Japan's steps toward modernization by visiting Miraikan – The National Museum of Emerging Science and Innovation; and the Kyoto Railway Museum.
In addition, they visited Matsubara secondary school in Kyoto where they interacted with Japanese students at the same age. The children also discovered Japan's culture of monozukuri, Japanese manufacturing style, through a factory tour at Kyocera's Shiga Gamo Plant.
For the second half of the tour, the children experienced Japanese life through a two-day home stay with Kyocera Group employees.
An exchange programme with Japanese students.
The Vietnamese youths had chance to experience Japanese daily life and traditions by living with local families in the last two days of their journey.
They said the trip was an interesting and useful experience and they have learnt more about Japanese traditional culture as well as were impressed by the local people's civilized lifestyle and hospitality.
The program was organized based on the experiences of Kazuo Inamori, founder and chairman emeritus of Kyocera Corporation, as he was deeply moved by cultural interaction during his first visit to the United States for a business trip. In 1976, Kyocera began inviting Japanese children on foreign tours, reflecting Inamori's hope that providing children with opportunities to interact directly with foreign cultures will help them to develop broad perspectives and dreams.
The program also aims to provide impressionable children with firsthand experience of different cultures so that they can in turn act as a bridge for Vietnam-Japan relations, and to lead prosperous and fruitful lives as leaders in various fields in the future./.
VNF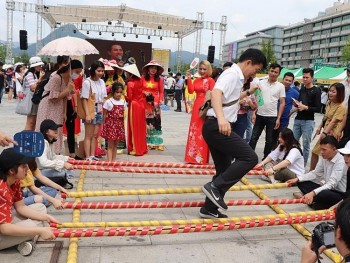 Focus
Vietnam Days Abroad is an annual national promotion program hosted by the Ministry of Foreign Affairs since 2010.