More than 886,000 to take high school exams
More than 886,000 candidates will sit the upcoming national high school examinations from June 25 to 27, according to a Ministry of Education and Training release.
Of them, nearly 74 per cent have registered to use the examination scores for university admission and the rest for college and vocational school admission.
Candidates have to take tests in maths, literature and a foreign language and choose either natural sciences or social sciences.
Or they could do choose a combination of natural sciences and social sciences. In that case, the higher of their two scores will be used along with the scores for maths, literature and the foreign language for university or college admission.
According to the report, nearly 53 per cent of the candidates have registered to sit social sciences, 34 per cent have opted for natural sciences and the rest for both.
Hà Nội has more than 74,000 candidates, the largest number in the country, followed by HCM City with nearly 71,000.
According to the ministry, the number of candidates this year is similar to last year's.
Training and education departments across the country will cross-check every candidate's information before May 5.
Counselling for admissions
Registration for admission to universities, colleges and vocational training schools should be done between April 1 and 20, and most of them are marketing themselves to attract candidates, especially talented ones.
Unlike in the past many universities, even reputed ones such as the Việt Nam National University-HCM City, sent personnel to high schools across the country to disseminate information to students about their admission system and courses available.
They also offered counselling to enable the students to identify appropriate majors.
Member universities of the Việt Nam National University-HCM City (VNUHCM) dispatched their staff to more than 150 high schools in 25 provinces and cities starting at the end of last year, mostly schools for gifted students and other top institutions.
Many universities including Hồng Bàng International University, the HCM City University of Technology and Education, and others also organised open days for career counselling and admission.
The HCM City University of Technology and Education, for example, organised it in January, and it was attended by more than 5,000 12th graders from 70 high schools in the city and elsewhere in the south.
It has set up a multimedia channel on its website to provide admission information.
It will organise a summer camp for candidates, providing them with free accommodation, meals and travelling cost.
"Like companies, the university too has to build and advertise its brand name to attract outstanding high school students," Dũng told Tuổi Trẻ (Youth) newspaper.
"It has set up 100 STEM (science, technology, engineering, and maths) clubs at high schools to create an interest in the sciences early".
VNF ( VNS )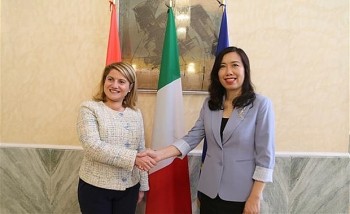 Friendship
The Vietnam - Italy political consultation is part of the occasion of the 50th anniversary of diplomatic ties and the 10th anniversary of the framework of the strategic partnership.