Must-see attractions in Cao Bang
To escape Hanoi's summer heat, people should think about the thick green forest, high mountains and stunning natural beauty of Cao Bang Province, 300km north of the capital.
(VNF) - To escape Hanoi's summer heat, people should think about the thick green forest, high mountains and stunning natural beauty of Cao Bang Province, 300km north of the capital.
Discover the most beautiful waterfall in Vietnam
Ban Gioc Waterfall is situated about 365km from Hanoi in Dam Thuy Commune, Trung Khanh District. It originates from the peaceful Quay Son Rivers.
The flow drops sharply down making a curtain of white spray. If you want to have the most impressive sight, you should come to Ban Gioc from May to September. (Photo: Storyflow)
The River forms the border between Vietnam and China; consequently the falls are half in Vietnam and half in China. The flow pides into many branches that create Ban Gioc Waterfall.
Ban Gioc is the largest in the country, though not the highest. With a height of 53 meters and a width of 300 meters, the waterfall is pided into 3 layers.
It is separated into three falls by rocks and trees, and you can hear the thundering sounds of the water hitting the cliffs kilometers away from Trung Khanh.
Recently, Ban Gioc Waterfall (Vietnam) has been listed in top 10 greatest waterfalls in the world by WondersList website – a dedicated blog to present top 10 lists from around the world in a variety of categories.
Thang Hen- romantic lake in Cao Bang
Thang Hen is located in Tra Linh District, about 25km far from Cao Bang town with 3000m in length and 1000m in width.
"Thang Hen" in the local language means "lake retention". Its stream is from Thang Hen cave above.
Water from the mouth of cave flows into the lake, so in the rainy season, while the other lakes' water become red in color, Thang Hen lake is still blue. (Photo: candyreyes)
The landscape here is quite charming with lines of green trees beside the precarious cliffs, reflecting on the pure water surface and meandering around the underground rock peaks. In the morning, taking a look at the lake from the top of the mountain, people can see masses of cloud like silky cloths flying in the wind. At the head of the lake Thang Hen, there is a wide cave and water in this cave flows out constantly, making the scenery more imposing.
The best time to visit Thang Hen lake in the rainy season (September - October). In the dry season the lake is much smaller.
Nowadays, at Thang Hen Lake area, people have built boarding-houses and hotels and this place now is getting much attention and development focus from the provincial authorities with purpose to make it become an ideal location for ecological tourism and resting for both domestic and foreign tourists. In 2002, Thang Hen Lake was recognised as an ecological tourism area of Cao Bang Province by the Ministry of Culture and Information.
Stone craft village of Khuoi Ky where all the houses made of stone
Between these two tourist destinations Ban Gioc Waterfall and Nguom Ngao Cave, in Dam Thuy commune, Trung Khanh district, Cao Bang province, Khuoi Ky village is famous for its stilt houses made of stone. The name "stone village" and and the habit of worshiping stone in this border region has attract visitors to come and explore this place.
Khuoi Ky Stone craft village where all the houses made of stone. (Photo: scorpittarius14)
Tay people in Trung Khanh worship stone for generations. Through many ups and downs of history, today in the minds of the Tay, "stone god" still attached and exist as firm concept. They considered that rock is source of life and is the center of the universe. People born from stone and at the end will be turned to stone. Stone in their minds is a deity pine help protect them from of tough nature.
In customary law of each ethnic groups in Cao Bang lands there are certain days to conduct ceremonial like thank giving day for stone god and god of the forest. Through the ritual, they wish and pray for good things will come to their villages in the upcoming harvest time. This stone sacrificial practices also express a sense of community responsibility towards Mother Nature. Therefore, the Tay here has created stone stile houses - an image of durability, simplicity and unique.
It is about 2 km from Ban Gioc to Khuoi Ky village. Upon entering the village, you will immediately see the difference of Khuoi Ky village. Instead of cutting tree to make fence and build house as elsewhere, people here took advantage of natural stone to erect solid stone fence.
The Ministry of Culture - Sports and Tourism recognised Khuoi Ky as a typical village of traditional culture of ethnic minorities.
Thousand-year old cave
Nguom Ngao Cave in Gun Hamlet, Dam Thuy Village, Trung Khanh District was discovered in 1921 by local people. It is considered a most beautiful cave in Vietnam thanks to its uniqueness and size.
Nature has endowed the cave with stone formations that look like human beings, trees, plants and mythical animals. (Photo: nadine_michael)
This cave is located next to the Ban Gioc Waterfall and 90 km from the city of Cao Bang. According to a survey of the British Caving Association in 1995, the cave has a total length of 2144 meters with 3 doors: Nguom Ngao and Ban Lom Nguom Nguom. This cave is rich in stalactites and stalagmites of various shapes.
Nguom Ngao means "Cave of Tigers" in the Tay ethnic minority language. Local legend tells that there were tigers living in it that caught pets. Local residents have set the trap to kill theses tigers to live in peace. In reality, the roaring sound comes from a fast-flowing underground stream which creates gusts of wind and loud echoes in the mountains.
Nature has endowed the cave with stone formations that look like human beings, trees, plants and mythical animals. Moreover, the cave is enormous and one branch reaches almost all the way to the waterfalls, where there is a 'secret' entrance.
Pac Bo Historical Site
Cao Bang is not only known for its big waterfalls, it also boasts an important revolutionary pilgrim destination. Pac Bo is a particular relic of history and the national revolution in Vietnam. This relic belongs to the commune of Pac Bo in Ha Quang district or at 55 km from the north of the city of Cao Bang.
In the local dialect, Pac Bo means watershed, where springs of clear water run. Behind Pac Bo hamlet is a mountain which houses the Coc Bo Grotto where Ho Chi Minh returned in February 1941 after 30 years of living abroad in search of a way to liberate the country.
Lenin Creek in Pac Bo Historical Site. (Photo: dinhhoangduc.hd)
Even if you have little interest in the history of Vietnam, the cave is in a beautiful location surrounded by evergreen forests filled with butterflies and birdsong, and overlooked by limestone mountains.
Coc Bo Grotto is about 30 square metres dotted with beautiful stalactites and stalagmites. President Ho Chi Minh made a statue of Karl Marx out of one of the stalagmites, and named the stream in front of the cave Lenin Creek and the jungle-clad mountain that overlooks this stream Karl Marx Peak. In this grotto, President Ho presided over many important meetings to discuss ways to bring the Vietnamese revolution to final victory.
Deadly turns and stunning natural beauty in the Ma Phuc Pass
Ma Phuc pass is one of the most beautiful passes in northeast Vietnam, Ma Phuc means a horse on bended knee, refering to sheer height of the pass. It leads Cao Bang town to Ban Gioc waterfall and Ta Lung border gate to China.
Ma Phuc pass is one of the most beautiful passes in northeast Vietnam. (Photo: Le Quang)
The Ma Phuc Pass is famous in the north for its lime stone mountains, which have two stone blocks that look like two horses kneeling down.
Ma Phuc pass is very steep with sharp curves. Before the road was widen it was considered one of the most dangerous passes in the north. For adventurous travelers who love natural magnificent landscapes and conquer mountain passes Ma Phuc is an unmissable place.
Pagoda overlooking world's fourth largest border waterfall
Phat Tich Truc Lam Ban Gioc - the first pagoda was built in 2013 in the border region in the north, in Phia Nham Mount or at 500 meters from the Ban Gioc waterfall.
The architecture of the Phat Tich Truc Lam Ban Gioc Pagoda has the traditional style of the Vietnamese Buddhism. Here, there is still the temple of the hero Nung Tri Cao, a character and a cultural symbol of the province of Cao Bang in the 11th century.
The first pagoda on the border, the Phat Tich Truc Lam Ban Gioc Pagoda, overlooks the Ban Gioc Waterfall in one of its directions and leans against Phia Nham Mountain. (Photo: vitnamquangknh)
The pagoda is rich in traditional Vietnamese religious architecture features, sitting on a land plot of three hectares in Trung Khanh District.
The edifice boasts a bell tower and shrines to the Boddhisatva and a local hero, among other structures./.
VNF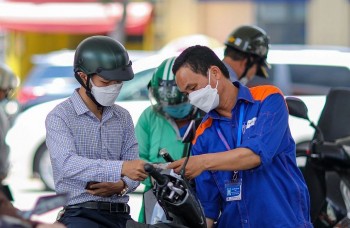 Economy
Vietnam Business & Weather Briefing (Oct 2): Binh Duong lures foreign investors with special care, the North and Central regions continue to have heavy rains, leading to the risk of flooding, flash floods, and landslides.