My Ô mai!
Winter and Spring in Hanoi offer visitors the chance to sample one of the capital's more exotic culinary creations - Ô Mai.
Winter and Spring in Hanoi offer visitors the chance to sample one of the capital's more exotic culinary creations - Ô Mai.
A long, narrow country, stretching for more than 1,600 km from north to south and encompassing a vast range of social and cultural groups, Vietnam is home to a stunning variety of cuisine. One renowned cookbook lists some 555 Vietnamese dishes, though experts say this could actually represent just one-tenth of the recipes on the country's menus. Vietnamese food is highly localised, with distinct styles in different regions and vast differences in tastes and styles to be experienced as visitors move through the country. Though each region's particular cuisine has its own claim to fame, Hanoian cooking has long been considered the oldest and purest.
When the weather in the capital changes from cold and damp to hot and humid as spring takes over from winter, there is a very special Vietnamese dish to tickle your taste buds in the changing season: Ô mai. They are among the most treasured Hanoi specialties that many find beyond compare. The delicate flavour of Ô mai, a special sweet treat, is prepared from dried fruit and considered to be have both practical and spiritual benefits.
Not that Hanoi is only place where you can find Ô mai! The specialty has a different name and also a different flavour in HCMC, where people call it Xí muội. Originating from Chinese processing, southern Xí muội is both saltier and sweeter and boasts some secret spices, making it very much unlike its Hanoi equivalent.
Hanoian Ô mai is not only seasoned with salt and sugar but also with other natural spices such as ginger, aniseed and molasses to create something new and interesting. No matter how they are combined, the dried fruit are a unique and traditional dish of the capital. The smell and taste of Hanoi's Ô mai are not too strong or too sharp, while HCMC's Xí muội are. The combination and harmony of the spices increase the flavour of Ô mai while retaining the nutrients and flavour of the fruit. Tastes in Hanoi aren't too inclined towards spices and depend greatly on flavours.
The various flavours of the unusual snack and occasional cough remedy is difficult to define: sweet and sour, sour and salty, buttery and spicy, or sometimes a mixture of them all. Try a few salted apricots or some ginger apricots to keep a cough away. Or how about a piece of fried carambola!
Though sugared treats are dwindling in popularity in the weight-conscious modern world, there is no denying the satisfaction of sampling the Hanoian specialty alongside a cup of lotus tea in the company of good friends. Try it for the sake of tradition, though be warned: one may not be enough! Ô mai is savoured by Hanoians year-round and is a nice present for those in love. The following are some of the more popular Hanoian Ô mai.
Ô mai mơ (sweet and sour apricot with ginger)
Van Loi is not only famous for its Ô mai mận but also for its sweet and sour apricot with ginger, as many customers say its Ô mai mơ is an important part of the shop's longevity.
Along with sweet and sour Dracontomelum fruit, apricot creates its own identity in Hanoian Ô mai. Unlike plums, sweet and sour apricots have a nicer colour of light yellow as well as a stronger taste of ginger. Be warned once more: one piece is never enough!
Ô mai mận (sweetened plums)
An interesting characteristic of Hanoi is that different products were made on a street bearing the same name in the old days. For Ô mai and Ô mai mận (sweetened plums) head to Hang Duong Street. Ô mai mận is viewed as a 'special specialty' in Hanoi.
Ripened plums are grooved and soaked in lime water then sautéed with sugar and ginger. It has a little sweetness and is slightly sour and also slightly spicy, making it especially suitable on a cold winter's day in the capital.
Among the many Ô mai shops in Hanoi, one of the most famous is Van Loi in Hang Da Street in the Old Quarter. The little shop attracts many customers seeking out its delicious Ô mai mận.
Ô mai sấu (sweet and sour Dracontomelum fruit)
Hanoi is known as the home of the Dracontomelum fruit (sấu) and dozens of dishes are prepared from it. Sugared Dracontomelum with ginger, salted Dracontomelum with chili, and sautéed Dracontomelum in molasses and ginger and typical examples. When eating a piece of Ô mai sấu, the sweet, sour and spicy taste immediately hits your taste buds.
Fruit jam is made right in front of visitors in the Old Quarter. Using a charcoal stove with a pot of freshly pounded ginger and molasses, the Ô mai maker squeezes lemon juice into the mixture then adds Dracontomelum fruit, which is slow cooked for hours and produces Ô mai sấu.
Dracontomelum fruit, young or old, green or ripe, can be used to make Ô mai sấu, as is the case for star fruit, apricot and plums. Owners of famous Ô mai shops in Hanoi usually pre-process fruit out the front of their shops, which is a great way to showcase the family's method of preparing the treats.
Ô mai khế (sweet fried carambola with ginger)
Star fruit is also used in Hanoian Ô mai. It is often asked: What is the difference between Ô mai khế and star-fruit jam? Ô mai khế is more than a dish; it's the greatest ever gastronomic song! Biting into a piece delivers the four tastes of sour, spicy, salty and sweet, awakening all the senses at one time like no other.
Making good Ô mai khế is anything but straightforward. The star fruit must be chosen in the summer, when it's in season. Makers have to pick the most perfect fruit and clean and cut it along its stem. Pieces are then soaked in salt for one night, then desiccated until soft and cooked in sugar, before the final step of being fried over ginger. It's both easy on the eye and on the palate!
( VNF/The Guide VN )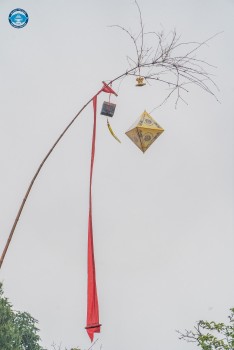 Viet's Home
In the past, the Neu pole (a tall bamboo pole with red garment strips used to ward off evil spirits during the lunar New Year) lowering ceremony at the royal palace of the Nguyen Dynasty was performed to mark the end of the New Year holiday and prepare to enter a new working year.