Mythical creatures enrich Vietnamese culture
Statues of traditional sacred animals guarding the gates of temples, pagodas and relics are gradually replacing fiercer looking animals designed in China, but made in Vietnam.
Statues of traditional sacred animals guarding the gates of temples, pagodas and relics are gradually replacing fiercer looking animals designed in China, but made in Vietnam.
This follows three years implementing regulation No. 2662, issued by the Ministry of Culture, Sports and Tourism, that bans foreign-style symbols, sculptures and worship objects unsuitable for Vietnamese culture.
The ministry hosted a conference to review the work on Wednesday (December 20th) in Hanoi. It was attended by many researchers, local authorities and managers of ancient buildings.
An artisan introduces a pair of nghê statues at an exhibition in Da Nang in October. (Photo: baodanang.com)
In the past 20 years, many foreign-style symbols, products and animal sculptures have been made and sold throughout the country, distorting local tradition.
Cultural heritage researcher Tran Lam Bien said it was easy to define Vietnamese sacred animals from foreign-style objects. Nghê (mythological lion) can represent Vietnamese or Chinese sacred symbols.
"Both Vietnam and China are not home to native lions, but they remain one of the country's cultural and spiritual icons," said Bien.
"Vietnamese lions look tolerant and solemn, while the foreign lions seem to possess superpowers, from giant eyes under bushy eyebrows and open mouths, to neatly carved teeth and strong paws with sharp nails," he said."It's obvious that Chinese lion models are not suitable for Vietnamese culture, especially in modern times.
"Nghê were used widely in the past with various facial appearances, happy, joyful, faithful, respectful and serious. That's how our ancestors should be remembered, not overwhelming and frightening, but amicable and happy with a sense of humour."
Art researcher Tran Hau Yen The stands beside a statue of nghê (Vietnamese mythical lion). (Photo toquoc.vn)
Dang Thi Bich Lien, deputy minister of Culture, Sports and Tourism, said regulation 2662 had received positive feedback and sympathy from various sectors and agencies, including the Buddhist Sangha of Vietnam; People's Committees; and local departments of culture, sports and tourism.
"There is one thing to clarify: we don't boycott all cultural factors with foreign elements because we are in the integration process," she said. "We just honour and preserve the fine values of the traditional culture."
"After three years, people now actively move sacred animals that are unsuitable," she said."I expect that in the near future, people will not place foreign symbols outside religious places, but also outside office buildings, banks and private residences. We will display traditional objects instead."
Tran Thi Thu Dong, vice director of the Department of Fine Arts, Photography and Exhibition, said since the resolution was issued in 2014, State administrators and management board of vestiges actively replaced statues of lions designed in Chinese or European style.
Training courses were organised in various cities and provinces such as Hanoi, Thai Binh, Hai Phong and Nghe An to provide knowledge of Vietnamese sacred animals for managers of the cultural, historical and religious sites and staff of local cultural departments.
Various activities have been held throughout the country to popularise traditional symbols and sacred animals, such as exhibitions, competitions, conferences and publications.
"Beside academic books, we need a book with many lively images and information easy to undertand for the public, especially young people and children," she said
Art researcher Tran Hau Yen The said when he visited China in 2013 he found an interesting thing that in some regions, people no longer used fierce lion statues to guard the gates.
"I was told that 16 pairs of stone lion statues were moved from the Party's administrations because people thought that they were the symbol of the ruling class in feudalism."
Experts at the Hanoi Ceramics Museum recently restored Kim Hoang folk paintings with an image of a nghê. It will be promoted to mark the coming Lunar New Year.
Sculptor Nguyen Van Vu, owner of the Lien Vu Sculpture Company, said he would join hands to implement the regulation No 2662 by producing more and more Vietnamese sacred animals.
"As for the foreign-style lions that have already been made, we will use tghem to carve smaller objects in Vietnamese style or destroy the whole sculptures to recycle the stone powder," he said.
Cover of the book compiled by Tran Hau Yen The about nghê - the Vietnamese sacred animal. (Photo courtesy of the author)
Researcher The released a book entitled Nghê – The Sacred Animal on the Edge to give readers an overview on the Vietnamese traditional symbol.
It's the result of 10 years researching of The and his fellow workers. The 330-page book provides images and information of nghê and how the sacred animals used to decorate and display at the vestiges nationwide.
The ministry commended and rewarded inpiduals and organisations who have a great contribution in implementing the regulation No. 2662. They are Nguyen Tri Quang from Hanoi who digitalised 100 statues of Vietnamese sacred animals to provide a data treasure to help artisans, sculptors, researchers and the public approach closer to the objects; Ninh Van craftvillage, book author The and Van Bao Ngoc Company from Ninh Binh Province, which uses traditional patterns to produce souvenirs for domestic and international tourists./.
VNF/VNS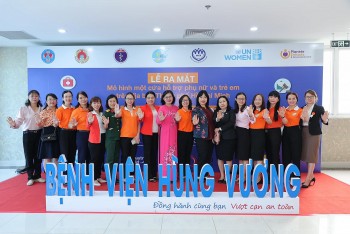 Viet's Home
What is the one-stop centre for women and children experiencing violence?