Nho Quan district holds disabled health care festival
On August 17-18, at the medical examination and treatment department of Nho Quan District General Hospital, a humanitarian activity "Disabled Health Care Festival" was held.
This is an activity within the framework of the project "Promotion of disability-inclusive and disaster prepared communities in Nho Quan", implemented by Aid for social protection program Foundation Vietnam (AFV) and funded by CBM International.
There were 139 people with disabilities from aged 6 to 60 who participated in the medical examination, including 76 men and 63 women. They are all in poor to near poor households in 3 communes of Thach Binh, Ky Phu and Cuc Phuong which are extremely difficult communes of Nho Quan district. The activity aims to help people with disabilities understand more about their health situation.
Besides, during this examination, a number of people with disabilities who are in the status of being approved for subsidies could also attend the medical examination, thereby authorities can issue a disability card to them. After obtaining the results of the examination, the project will consider supporting people with severe disabilities who are in need of more medical treatment as well as medical equipment to help them integrate into a better life.
The Management Board of Supporting Program for Development in Nho Quan district coordinated with the General Hospital of Nho Quan district and Nho Quan insurance company to organize the event.
The activity will continue on its last day August./.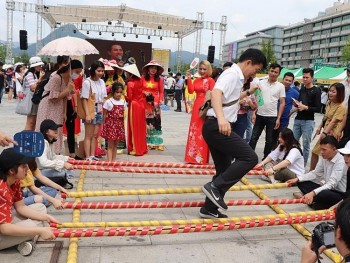 Focus
Vietnam Days Abroad is an annual national promotion program hosted by the Ministry of Foreign Affairs since 2010.