Ninh Thuan aids drought-affected areas
Authorities have taken drastic measures to help residents in southern Ninh Thuan province cope with water scarcity brought about by the relentless drought.
Authorities have taken drastic measures to help local people in southern Ninh Thuan province cope with water shortages caused by the prolonged drought.
The province has been delivering 25-30 litres of water per person to nearly 5,800 families in 19 drought-affected villages daily and provided over 2,800 tonnes of rice aid for six districts.
Some 80,400 billion VND from the State's financial aid have been allocated to counter the impacts of drought, including water provision for daily use, financial aid to help the locals deal with production damages and purchase livestock feeds alongside digging ponds for water reserve.
Agencies and localities nationwide have also extended a helping hand to Ninh Thuan. The Ministry of Defence has presented 5,000 gift packages, worth 2.5 billion VND in total, to impoverished households and policy beneficiaries from seven districts and Phan Rang-Thap Cham City.
Meanwhile, the High Command of Military Zone 5 has handed over 3,000 gift packages, worth 1.5 billion VND, to local households and sent a truck with water filter, five tankers and personnel to help with the free delivery of clean water for needy people.
Ninh Thuan authorities have recommended farmers to switch to crops that require less water, such as hybrid maize, green peas and watermelons.
Vietnamplus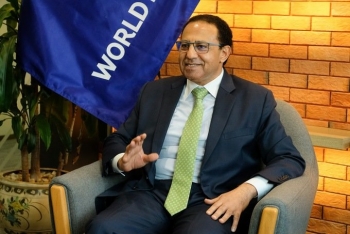 Economy
Vietnam's agriculture is transforming from quantity targets towards profit, environment and farmer income targets. Ahmed Eiweida, Vietnam Sector Leader for Sustainable Development (World Bank).