Non-governmental aid contributes to improve economic and social life in Hoa Binh
VNF - Non-governmental projects have brought about practical results, contributing to poverty reduction, improving people's knowledge and improving the living standards of people in Hoa Binh.
VNF - Non-governmental projects have brought about practical results, contributing to poverty reduction, improving people's knowledge and improving the living standards of people in Hoa Binh.
As a mountainous province, Hoa Binh has received much attention and support from non-governmental organizations. At present, there are 38 programs and projects from 20 organizations operating in 11/11 districts.
Bui Xuan Truong, Deputy Director of Department of Foreign Affairs of Hoa Binh province, said that projects from non-governmental sources are not sizable and concentrated in one area, thus bringing about rapid results, contributing to the economic and social development of the province.
ChildFund's project in Cao Phong district
We visited the medical station in Bac Phong commune, Cao Phong district, Hoa Binh province, where a monthly immunization session for children was taking place.
The well-equipped and 14 - function room station is medical center for nearly 5000 local people. On average, the station receives and examines about 15 patients a day.
Local are delighted with new medical station
Do Thi Hanh, Deputy Head of Bac Phong commune medical station said, the station was very decrepit and degraded, with only 4 rooms in the past. When it rained, water flooded from road into the yard.
In recent years, support from ChildFund has helped to upgrade the station's facilities and improve capacity of medical staff. As a result, the quality of health services has increased significantly.
Hanh happily recounted, from the day of new clinic, local people are very excited to come here for medical treatment. Their trust in medical staff also increased.
In Cao Phong district, ChildFund has supported the construction of 6 medical stations since 2007, among which Bac Phong medical clinic was recognized as the best in Hoa Binh province in 2016.
Ho Xuan Dung, Vice President of Cao Phong District, evaluated the effectiveness of the project, not only to improve the quality of health care in the locality, but also improve the management capacity of medical staff. The rate of malnourished children in the district has dropped from over 24% in 2005 to 12% in 2017.
Mr. Mai The Long, Provincial Manager of ChildFund in Hoa Binh, said that besides health project, ChildFund also implemented other programs such as clean water, environmental sanitation, and sustainable economic development.
ChildFund's strategy is to focus on supporting a specific region in a relatively long-term (10-12 years), in many fields, to create the greatest impact on the community, bringing real benefits.
With this approach, ChildFund's programs often create long-term effects, not support a one-sided way, not only build infrastructure but also improve management capacity for people. Therefore, although many projects have ended but local people there still operate them very well.
World Vision's project in Lac Son district
Leaving Cao Phong district, we visited Phu Luong B Primary School, Lac Son District, Hoa Binh Province.
Phu Luong B primary school is located in a very difficult area. The school has 406 students, of which 197 are poor. However, the school achieves that 100% of the students go to school, none of them drop out.
Bui Thanh Trung, Principal of Phu Luong B Primary School, said that in the past, their schooling was difficult due to hard road to go, economic difficulties. The school is so crummy that they find not interested in going to school.
After receiving support from World Vision Vietnam, the school's infrastructure were gradually improved, with many new learning facilities, clean water. Both parents and students are excited. Students love school more and actively go to school.
In addition, World Vision Vietnam organizes fun activities for children, such as the outdoor library where children can read books and understand many things. They feel encouraged to attend school.
Pupils read books in library
Bui Thi Kieu Oanh, class 5A1, Phu Luong B primary school said, ''I love this school. At school I feel very happy to learn, play with friends.''
According to Bui Van Vot, Chairman of Phu Luong Commune, Phu Luong is a remote commune in Lac Son district. The population is mainly Muong ethnic group. People's income mostly comes from cultivation and livestock.
World Vision Vietnam's projects have been implemented in the commune since 2011, with the following support: investment in school infrastructure, playgrounds in the neighborhood, support for canal construction, garbage disposal, plant seeds.
The school is equipped with a new computer classroom
Mr. Vo said that with the support from the project, economic life of people in the commune gradually increased. The average income of the people has also improved from VND 9 million per year in 2013 to VND 11 million in 2014, VND 17.5 million in 2016 and strive to reach VND 20 million by 2018.
Particularly in the field of education, World Vision Vietnam has invested in facilities and equipment for kindergartens and primary schools. Previously, kindergartens had no boarding classes, but the school now has boarding classes for children.
As representatives of the commune, Mr. Vot said that people feel very satisfied when there are programs and projects in accordance with local characteristics, such as World Vision Vietnam's project. He hopes that the organization will pay more attention to the commune's sustainable development in the future./.
VNF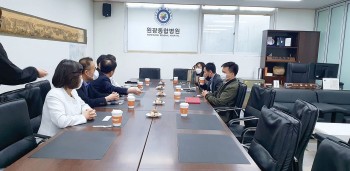 Overseas Vietnamese
A meeting was organized at the Wonkwang Hospital on the provision of medical support for the Vietnamese community in Korea in accordance with the signed cooperation agreement.