North Korea announces to continue its arm modernization
North Korea has responded to the accusation of breaching the UNSC resolutions of the United Kingdom, France and Germany (E3) on Thursday (August 29), blamed the E3 for intervening in North Korea's "self-defensive measures for arms modernization" and announced to continue this program.
North Korea has blamed the United Kingdom, France and Germany for interfering in its "self-defensive measures for arms modernization" and asserted not to stop this program on Thursday (August 29) after the three European powers' accusation that North Korea violated the UN Security Council resolutions.
Photo: AP
North Korea criticized the E3's recent action as they sell their military equipment to South Korea, though habitually saying that they want peace and security on the Korean peninsula."
It also said that the E3 had "an unreasonable quarrel with us over our measures for developing conventional weapons while deliberately turning their faces away from the military exercises and the introduction of latest lethal weapons in South Korea".
Furthermore, it blasted the UNSC resolutions "trample the rights to self-defense and survival of the sovereign state, and accordingly, we have never acknowledged them" and emphasized the importance of protecting its national security as some countries "whose destinies were hacked to pieces by the Western powers".
However, North Korea hoped the relations with European countries will be "on good terms" and suggested the E3 "should get rid of their rigid and prejudiced way of thinking and help to ease tensions and ensure peace on the Korean peninsula".
The E3, on Wednesday (August 28) had gave its joint statement to condemn North Korea violated the UNSC resolutions that impose sanctions on North Korea to ban North Korea having short, medium and long – range missile tests because of its recent launches to protest against the US – South Korea joint military drills.
In particular, North Korea had fired two new short – range missiles on Saturday (August 24) despite the US's effort to ease the tension between two countries.
AP, DW ( Van Nguyen )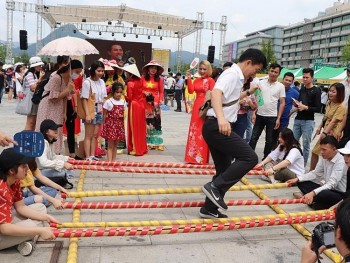 Focus
Vietnam Days Abroad is an annual national promotion program hosted by the Ministry of Foreign Affairs since 2010.