Nuon Chea, Khmer Rouge's top leader, dies at 93
Nuon Chea, the infamous "Brother Number Two" who presided over some of the worst atrocities of Khmer Rouge rule in Cambodia in the late 1970s and ultimately was convicted of crimes against humanity and genocide, died Aug. 4 in Phnom Penh at the age of 93.
The Khmer Rouge's most senior surviving leader Nuon Chea. Photo: Reuters
The Associated Press reported the death. No other details were immediately available.
As the secretive chief ideologue and deputy of the radical communist regime led by Pol Pot, he was the official mainly responsible for devising and operating the Khmer Rouge killing machine — carrying out a policy of mass executions that became a hallmark of Cambodia's holocaust. It is estimated that about 2 million people died, roughly a quarter of the country's population, from summary executions, famine, disease and overwork during the Khmer Rouge's brief but brutal reign of terror from 1975 to 1979.
Known as "Pol Pot's shadow," Nuon Chea was convicted of crimes against humanity by a special UN-backed tribunal in 2014 and sentenced to life imprisonment. He was 88 at the time, the oldest and most senior surviving Khmer Rouge leader and one of two defendants in the case. Khieu Samphan, the regime's titular former president, was convicted with him.
After a second lengthy trial, the tribunal in 2018 also found Nuon Chea and the Khmer Rouge's former head of state Khieu Samphan guilty of genocide in a landmark ruling almost 40 years after the fall of a brutal regime that presided over the deaths of a quarter of the population./.
VNF/Washington Post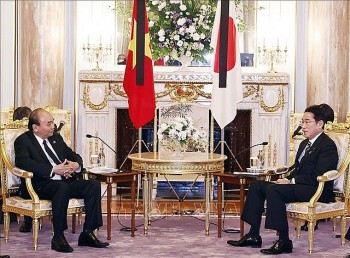 Friendship
Vietnam always treasures the extensive strategic partnership with Japan and views Japan as an important and long-term strategic partner, President Nguyen Xuan Phuc told Japanese Prime Minister Kishida Fumio in Tokyo on September 26.