Outgoing Cambodian Ambassador honored for his tireless contribution
In the evening of August 23, Nguyen Phuong Nga, President of the Vietnam Union of Friendship Organisations (VUFO) presented 'For the cause of Peace and Friendship among Nations' insignia for Ambassador Prak Nguon Hong for his significant contributions to consolidating and strengthening friendship between the people of Vietnam and Cambodia.
On behalf of the State President, VUFO President Nguyen Phuong Nga presented the decoration to Ambassador Prak Nguon Hong.
Attending the ceremony were Embassy's Officers, members of VUFO and Vietnam-Cambodia Frienship Association, representatives from Ministry of Foreign Affairs of Vietnam.
At the event, VUFO President Nguyen Phuong Nga spoke highly of his efforts in bolstering the bilateral relations built on trust and mutual understanding for the past years.
Nga added that the two countries' cooperation has been deepened in various spheres, including economy, trade, culture, education, national defence-security and people-to-people exchanges. Two-way trade hit 4.7 billion USD last year, and is forecast to hit 7 – 8 billion USD by 2020.
The two countries successfully organised the Vietnam – Cambodia and Cambodia – Vietnam Friendship Year 2017, the celebration of the 50th anniversary of bilateral diplomatic ties (June 24, 2017), and the 40th anniversary of the victory of the southwest border defence war (January 7, 2019). People-to-people exchange has also been strengthened, she said.
The Cambodian diplomat has paid due attention to and worked with the Vietnam-Armenia Friendship Association to organise external activities and celebrations of the countries' major events, Nga added.
The VUFO President expressed her belief that in any position, the ambassador will make further contributions to bilateral traditional friendship and comprehensive partnership.
For his part, Ambassador Prak Nguon Hong thanked the VUFO and the Vietnam-Cambodia Friendship Association for their support for the Embassy of Cambodia in Vietnam to arrange activities which helped foster the traditional bilateral friendship and multifaceted cooperation, particularly people-to-people diplomacy.
Recalling notable achievements of the bilateral friendship and cooperation over the years, the diplomat voiced his hope that the Cambodia-Vietnam relations will continue to thrive in the coming time.
He promised that in any future positions, he will try his best to make contributions to fostering bilateral ties in perse areas between Vietnam and Cambodia./.
Mai Anh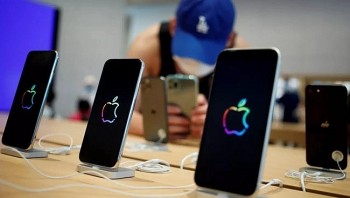 World
India exported iPhones worth $1 billion from May to September 2022, according to a Bloomberg report, but a closer look at the data shows the country is a long way from rivalling China's iPhone manufacturing chops