Over 11.6 million foreign tourists come to Vietnam in eleven months
(VNF) - According to report from the Vietnam Tourism Agency, more than 1.17 million foreign visitors entered Vietnam in November, a 14.4% increase from the previous month. During the aforementioned period, the number of holidaymakers from Asian countries increased 32.6% compared to the same period last year. Several nations saw the strong growth of tourists to Vietnam including China, up 44.9%; the Republic of Korea, up 55.3%; Japan, up 7.7%; Taiwan (China), up 20.9%; and Malaysia, up 16.5%. Meanwhile, visitors from European nations experienced a year-on-year rise of 17%. Encouraging growth was seen in some markets such as Russia which surged 34.8%, the United Kingdom rose 11.3%; Spain, up 19.8%; and Italy which grew 12.8%.
Being a safe and friendly country, Viet Nam has become an attractive destination in the world with impressive growth of tourism arrivals.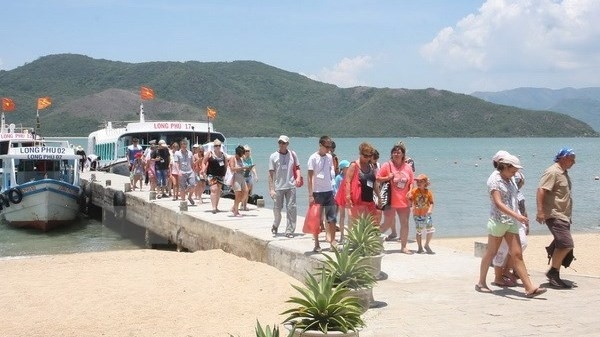 Foreign tourists visit Nha Trang resort city in Khanh Hoa province (source: DT News)

The Vietnamese administration of tourism chose 2017 as the Travel Year with an aim to enhance service quality of travel agencies and government's management over travel operation. Accordingly, it focused on advertising work and providing trainings to improve human resources quality.
For instance, the country participated in the World Travel Markets WTM, the leading global event for travel industry opened in London (UK) on November 6.
Embassies of Vietnam in other countries also contribute a great part in joining and holding various festivals and exhibition to showcase the beauty of Vietnamese land and people to the world.
Recently, the Government of Vietnam announced that over VND30 trillion will be spent on tourism infrastructure development through 2020, according to the Government's latest target program on tourism infrastructure development for period 2016-2020.

Economy
Vietnam continues to be one of the 10 countries receiving the most significant amount of remittance in the world, according to the latest report on migration and development conducted by the World Bank (WB) and the Global Knowledge Partnership on Migration and Development (KNOMAD).