Quang Nam hosts "Clean up the World" campaign
The Ministry of Natural Resources and Environment chooses the theme of the campaign in Vietnam as "Taking action for a green, sustainable urban environment."
(VNF) - The Ministry of Natural Resources and Environment chooses the theme of the campaign in Vietnam as "Taking action for a green, sustainable urban environment."
In Quang Nam, various activities will take place from September 16th - 18th, including a launch ceremony during which participants will collect waste, classes on environmental issues, class on environmental law for businesses, and an eco-friendly battery exchange.
The Ministry of Natural Resources and Environment and the Australia Embassy co-organize annually Vietnam's response to the annual global "Clean Up the World" campaign.
Vietnam has responded to the campaign since 1994 with activities having held in Binh Dinh, Quang Nam, Quang Ninh, Vinh Long, Phu Yen, BinhDuong, Ha Nam, Hanoi, Ho Chi Minh City and others.
The global campaign, initiated by Australia in 1993, is one of the largest community based environmental campaigns in the world, inspires and empowers communities to clean up, fix up and conserve their environment. It is annually held over the third weekend of September. Hundreds of millions of volunteers from over 130 countries take part in this campaign./.
VNF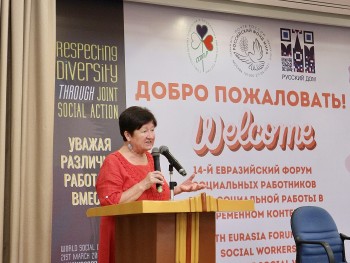 Friendship
The 14th Eurasia Forum of Social Workers Opens was held in Hanoi on March 20-21 with the theme of "The role of social work in the current context."