Reasons behind Vietnam's downfall in int'l tourists
Vietnam's international tourist arrival numbers dropped for the 12th consecutive month in May 2015, which is attributed to several reasons, according to tourism insiders.
Vietnam's international tourist arrival numbers dropped for the 12th consecutive month in May 2015, which is put down to several reasons, according to insiders.
Over 576,000 international tourists visited Vietnam in May 2015, a 16.4 percent drop compared to the same period last month, the General Statistics Office reported late last month.
Total foreign tourist arrival numbers in the first five months of this year was more than 3.27 million, which is another year-on-year 12.6 percent fall.
The decline is the latest in the downfall, which has gone on for 12 months in a row despite complaints and calls for assistance from industry insiders.
The country lured approximately two million international visitors in the first three months of this year, down 13.7% year-on-year, according to the General Statistic Office.
The number of visitors from Vietnam's major markets tumbled steeply in the first quarter.
The number from Asia, Vietnam's biggest visitor-generating market, plunged by 14.1% to more than 1.27 million, with Chinese visitors making up a worrying 40.4% year-on-year drop.
The January-March period witnessed a year-on-year plummet of 11.1% in European visitors to around 341,800.
In the period, Russian arrivals stood at a mere 95,800, sliding down by 27.1% compared to last year.
The number of international visitors arriving in Vietnam during the first four months of this year dropped by 12.2 per cent from the same period last year to 2.69 million, according to the Vietnam National Administration of Tourism.
Visitors arriving by air constituted 83 per cent of the total international arrivals and shrank by 9 per cent over the same period last year, while arrivals by train and road dropped by a whopping 30 and 25 per cent respectively.
In April alone, the Southeast Asian country welcomed over 690 international visitors, increasing by 11.7 per cent from the previous month, but dropped by 7.4 per cent over the same month in 2014.
Foreign tourists visit a Tet (Lunar New Year) flower market. Photo: Ministry of Culture, Sports and Tourism's website.
Reasons and solutions
Experts said the downfall is partly put down to the adverse impact of the global economic recession and the slump in several currencies, which has made trips more costly.
The country's tourism industry lacks innovative ideas and can hardly lure tourists to return, according to the Vu The Binh Deputy Chairman of the Vietnam Tourism Association (VITA).
Tourism promotional activities also remain inadequate, the deputy director of a travel firm based in Hanoi noted.
The expense budget allocated to tourism promotion in Vietnam was a mere VND30 to 40 billion (US$1.38-$1.85 million) a year, which was scanty in comparison with the millions of dollars earmarked for such activities by some neighboring countries.
Furthermore, there remains a lack of coordination among promotional activities at the country and local levels and among different locales.
Industry insiders urged that a long-term promotional strategy be formulated, and improvements be made to tourism infrastructure such as hotels and restaurants.
Another crucial problem that discourages global vacationers from spending their holidays in Vietnam is the country's visa requirements.
International tourists currently have to meet stringent requirements, complete complicated procedures, and pay high fees to get a visa for their Vietnam trip, industry insiders said at a conference held by VITA in Hanoi late last month.
Binh, VITA deputy chairman, also urged the government to waive visa fees for all international tourists for the second half of this year.
Waiving visa requirements for more countries will create the most favorable conditions for tourists.
ASEAN tourists are now exempt from visas when traveling to Vietnam, as are those from seven other spearhead markets, including Russia, Japan, South Korea, Denmark, Norway, Sweden, and Finland.
ASEAN is a ten-member bloc which includes such Southeast Asian countries as Indonesia, Malaysia, the Philippines, Singapore, Thailand, Brunei, Cambodia, Laos, Myanmar, and Vietnam.
In the latest twist, Vietnamese Prime Minister signed Wednesday a directive to waive visa requirements for German, French, British, Italian, and Spanish visitors starting July 1.
Eligible tourists have an allowed 15-day stay for each entry.
The Southeast Asian country will scrap visas for the five countries for one year from the directive's effective date.
The new directive also stipulates that foreign tourists to Phu Quoc Island, off the southern province of Kien Giang, will be exempt from a visa if they stay there for 30 days at most.
Tourism sources also put down the plummeting international arrivals in the past 12 months to currency depreciation in Vietnam's major visitor-generating markets against the U.S. dollar, including Russia and Europe, coupled by exorbitant tour prices, limited, less appealing products and inadequate marketing.
Other factors that have deterred tourists from visiting Vietnam include substandard tour guides and volatile hotel prices.
Some industry insiders believe that attitude is also an underlying problem of Vietnam's tourist industry.
Experts and travel operators have thus called for the local tourism authority to take prompt action to reverse the fall in international arrivals by offering new, alluring products at affordable prices to draw international influxes towards the end of this year to make up for the loss.
They also underlined the urgent need for the tourism authority to launch a stimulus program and support local travel companies in offering competitive, appealing products and services./.
by VNF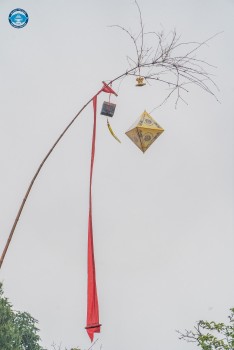 Viet's Home
In the past, the Neu pole (a tall bamboo pole with red garment strips used to ward off evil spirits during the lunar New Year) lowering ceremony at the royal palace of the Nguyen Dynasty was performed to mark the end of the New Year holiday and prepare to enter a new working year.