Russian aircraft lands in Vietnam with 40 tons of storm Damrey relief
Russia has offered US$5 million in aid to Vietnam to support regions hit by Typhoon Damrey
A Russian Il-76 plane landed in south-central Vietnam's Cam Ranh Airport just after midnight on Thursday, carrying 40 metric tons of state-funded storm relief to the devastated region.
The Russian Il-76 freighter at Cam Ranh Airport. Photo: Tuoi Tre
Russian media on Tuesday reported that President Vladimir Putin had agreed to offer US$5 million in aid to Vietnam to support the Southeast Asian country in mitigating the impact of Typhoon Damrey.
In addition to monetary support, an Il-76 aircraft from Russia's Ministry of Emergency Situations was dispatched to Vietnam loaded with 40 tons of goods, including milk, sugar, canned food, and tents, the Russian TASS news agency reported.
The freighter aircraft landed at Cam Ranh Airport in the storm-struck province of Khanh Hoa at around 12:30 am on Thursday, after having departed the morning before from the Ramenskoye Airport on the outskirts of Moscow.
Nguyen Duy Bac, deputy chairman of Khanh Hoa, was present at Cam Ranh Airport to receive the aid.
An Il-76 freighter aircraft lands at Cam Ranh Airport in Khanh Hoa Province to deliver storm relief provided by the Russian government, November 9, 2017. Photo: Tuoi Tre
"We would like to thank President Putin for helping the Vietnamese citizens who suffered from this natural disaster, especially the people of Khanh Hoa," Bac said.
"These goods are an extreme necessity for us right now. We will do our best to quickly deliver them to storm-hit areas and rebuild from the catastrophic aftermath of Typhoon Damrey."
Damrey made landfall in Khanh Hoa and neighboring provinces on Friday last week with winds reaching up to 90 kilometers per hour. It is now considered the fiercest storm to have hit the central coast in twenty years.
As of Wednesday, the death toll had reached a staggering 106, with 30 people still missing along the coast.
Nguyen Van Cuong, a chief customs officer at Cam Ranh Airport, told Tuoi Tre (Youth) newspaper that all papers for the Russian goods have been completed beforehand in order to allow the plane to be quickly unloaded after its arrival.
The storm relief is expected to be delivered to areas in need as early as Thursday morning, Cuong said.
Nguyen Duy Bac (C), deputy chairman of Khanh Hoa Province, arrives at Cam Ranh Airport to receive the Russian storm relief. Photo: Tuoi Tre
Goods are unloaded through the back of the aircraft. Photo: Tuoi Tre
VNF/TTO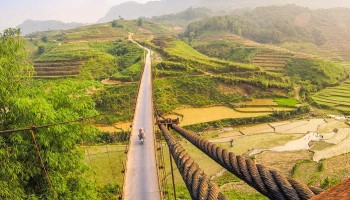 Travel
Visitors rate the 7 most amazing roads in Vietnam, weaving through mountains, jungles, and beaches, according to Lonely Planet magazine.