Russia's Ambassador to United Nations dies suddenly
Vitaly Churkin, the tough-talking Russian ambassador to the United Nations, died suddenly Monday after falling ill at his country's consulate in New York City.
Vitaly Churkin, the tough-talking Russian ambassador to the United Nations, died suddenly Monday after falling ill at his country's consulate in New York City.
Russia's Ambassador to the U.N. Vitaly Churkin addresses a Security Council meeting at the United Nations. Photo: AP
Churkin, 64, was working at his desk when he collapsed, the Russian Foreign Ministry confirmed. The ministry gave no other details.
"A prominent Russian diplomat has passed away while at work," the ministry said in a statement on its official website. "We'd like to express our sincere condolences to Vitaly Churkin's family."
The New York City Medical Examiner's Office confirmed it was investigating the death.
Born Feb. 21, 1952, in Moscow, Churkin died a day before his 65th birthday.
Churkin's death stunned officials at U.N. headquarters, where the news emerged in the midst of a routine briefing for reporters. He died weeks into some major adjustments for Russia, the U.N. and the international community, with a new secretary-general at the world body and a new administration in Washington. Meanwhile, the Security Council is due this week to discuss Ukraine and Syria.
From Moscow's vantage point, "Churkin was like a rock against which were broken the attempts by our enemies to undermine what constitutes the glory of Russia," Tass quoted Deputy Foreign Minister Sergei Ryabkov as saying.
Churkin's U.N. counterparts "experienced and respected the pride that he took in serving his country and the passion and, at times, very stern resolution that he brought to his job," said General Assembly President Peter Thomson, of Fiji.
But colleagues also respected Churkin's intellect, diplomatic skills, good humor and consideration for others, Thomson said. He said he'd been struck and heartened by Churkin's openness to meeting with representatives from small countries, such as Fiji.
Britain's U.N. ambassador, Matthew Rycroft, recalled "a diplomatic giant and wonderful character." Former French U.N. Ambassador Gerard Araud, now French ambassador to the U.S., described Churkin as "abrasive, funny and technically impeccable."
Churkin emerged as the face of a new approach to foreign affairs by what was then the Soviet Union in 1986, when he testified before the U.S. Congress about the Chernobyl nuclear plant disaster. It was rare for any Soviet official to appear before Congress, and Churkin was in his 30s and a second secretary at his country's embassy in Washington.
In fluent English, Churkin provided little new information about Chernobyl but engaged in a friendly, sometimes humorous, exchange with lawmakers who weren't accustomed to such a tone — or to a representative in a fashionably well-fitting suit and a stylish haircut — from the U.S.S.R.
After he returned to the foreign ministry in Moscow, Churkin ably dodged questions and parried with Western correspondents, often with a smile, at briefings in the early 1990s. Within the government, he proved himself an able and flexible presence who survived numerous course changes after the dissolution of the Soviet Union. He held ambassadorships in Canada and Belgium, among other posts.
Churkin told Russia Today in an interview this month that diplomacy had become "much more hectic than it used to be," with political tensions rising and stability elusive in various hotspots. At the time, he "looked in good health and was very energetic," reporter Alexey Yaroshevsky tweeted Monday./.
VNF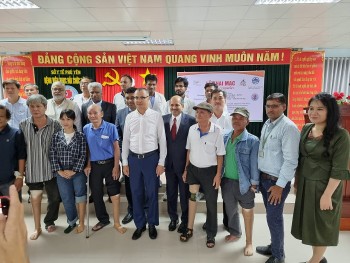 Friendship
This is the 5th time the Jaipur Foot Artificial Limb Fitment Camp has been held in Vietnam since 2018 by the Indian Ministry of Foreign Affairs, Indian agencies and organizations.