Salsa, the spice of life
(VNF) - Brought to Vietnam in early 2000s by some expatriats, nowadays, Salsa has become popular around the country. With hundreds year of history, Salsa holds countless interesting facts you may not know.
(VNF) - Brought to Vietnam in early 2000s by some expatriats, nowadays, Salsa has become popular around the country. With hundreds year of history, Salsa holds countless interesting facts you may not know.
History of Salsa
Salsa is a dance that was created fairly recently with the mixture of many different styles and musical techniques that all came together in Cuba, land that was home of the many Latin dances and music styles. After achieving popularity in Cuba, visiting musicians from United States soon became intoxicated with this awesome music and dance style, carrying it back to the states where they kick-started popular age of Latin music domination that never stopped.
Illustrative photo (Source: VN Latin Xperience)
Even though modern salsa was born in Cuba, its origins can be traced back to other lands and earlier parts of our history. Basic components of Salsa have been brought together by countless immigrants who came into Latin America searching better life or being brought there against their will (African slaves).
By combining Danzón dance of French and Haiti immigrants, Rumbas of African slaves, Són of the Cuban people, troubadour music of Spanish people (mostly Flamenco) and various musical instruments of Africa, Salsa became first performed for the first time during final years of 19th century. It was during that time that visitors to Cuba first became aware of this new musical and dance style, bringing to their home tales of the incredible Latin culture.
Nowadays, salsa has been developed into several styles, as the dance varies from region to region, like Cuban Style, Colombian Style, Los Angeles Style, New York Style, Miami Style, etc.
Characteristics of the movement
Salsa is a very sensual form of dance that is generally performed with a partner. The music for this style is a regular recurring eight-beat pattern, i.e., two bars of four beats. The music typically has complicated percussion rhythms and is very catchy and fast. The basic movement in this dance is stepping on the beat of the music.
Photo for illustration (source: dancepoise.com)
The male dancer generally leads the female dancer in the steps, who has to keep up her balance and speed throughout the performance to that of her partner's. Although generally the partners hold each other during dancing, some steps might also have them dancing separately, showing off their fancy footwork and body movements.
Salsa costumes
For ladies, if you have ever watched any salsa competitions or performances, you must have noticed the women in shiny sequined bikini dresses that barely cover them, moving across the dance floor in 4-inch heels.
These dresses generally have heavy sequin work on the hips and bust to draw the attention of spectators. The dresses are generally knee-length or higher and flowy for ease of movement.
The colors are also quite flashy and dark, black and red being the most favored. Dark colors are chosen as they hide sweat, deodorant, and drink stains, while also making the sequin work more prominently visible.
The male salsa dancers usually wear loose, but well-fitted black pants, flashy shirts, and dressy shoes.
The shirts usually have a deep V-shaped neck and are fairly tight. They can also sometimes have sequin work, or they can be netted to show off the lean body of the dancer.
In terms of footwear, since this dance style involves a lot of quick turns and complex footwork, the dancers wear lightweight and flexible footwear with leather or suede soles.
Rubber soles are avoided as they tend to grip the floor, making it difficult to turn.
The female dancers wear high heels for added grace and sensuality in their movements.
Salsa in Vietnam
Salsa was brought to Vietnam in the early 2000s by some expatriates.
In 2002, Press Club Hanoi (Ly Dao Thanh street, Hoan Kiem district) usually had a Latin Night on every Friday. Whenever the Salsa music was played, few Latino couples danced while everyone stood in circle and supported them. On one of these nights, Raoul Imbach, Vice-Ambassador of Swiss Embassy in Vietnam, joined the move and a lot of people followed him.
Raoul Imbach, Vice-Ambassador of Swiss Embassy (L) opened the first salsa class in Hanoi in 2003 (source: Dantri)
Thought that everyone like it, in 2003, Raoul opened the first Salsa class in Hanoi, and with his friends Roberto (from Cuba) and Arif (from Malaysia), all had tried the best with enthusiasm to run the class. They had moved to many places like Roma Cafe, Quyen Van Minh's Jazz Club, etc. The most important thing that Raoul has done was to create a place for the young to entertaint and relax through dancing.
When Sheraton Hotel was built in 2004, it became an official venue for weekly dance at Nutz Pub. The Vietnamese instructors who joined Raoul to teach salsa there were An and Thanh Phuong.
Some people who joined Raoul from the beginning had published information to the forum of dancer community in Hanoi and asked them to join. This was the second milestone that marked the hit of Salsa to Hanoi. These people with their enthusiasm has helped Salsa in Hanoi to grow quickly.
Photo for illustration (source: VN Latin Xperience)
In the next several years, a lot of venues for salsa were opened to meet with the demand of salsa lovers. They include dance club, bars and coffee shops like Melia, ODC, HYEC, Bull Cafe, Smokie, Roma Cafe.
The first Salsa competition in Vietnam has been organized by Nutz Pub in March 2006. This competition has hiked Salsa in Hanoi. More classes have been opened, and more people joined due to reasonable or low fee.
In HCMC, Salsa started at about the same time as in Hanoi. There was salsa class by a French instructor named Fabien at La Casa Latina, but only a few then followed. After that, another Spanish Urko opened class at La Habana, and Frederik also opened classes. Salsa later was introduced to RMIT university, and since then find its way to more communities.
Nowadays, the Salsa wave has reached many localities in Vietnam, apart from two metropolitans Hanoi and HCMC.
In the country, you can see people, both the youngsters and the elderly, hilariously dance Salsa in the parks, on the walking streets of the Old Quarters, or even kids are taking salsa lessons in kindergarten.
It's easy to understand why Salsa has become that popular. It is not only a fun-filled way to stay in shape, but moreover, is a great way to communicate with people and boost your confidence./.
( P.Y )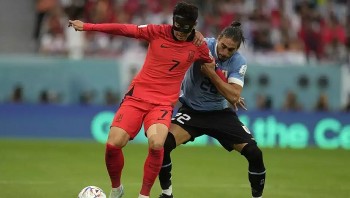 World
Both South Korea and Ghana are searching for their first wins at this year's World Cup. Ghana are facing the prospect of an early elimination from World Cup 2022 Group H when they travel to the Education City Stadium to face South Korea on Monday.