Save Vietnam's Wildlife recalls the memorable month of June
(VNF) – In June 2018, Save Vietnam Wildlife (SVW), the NGO specializing on protecting the environment and natural diversity of Vietnam has completed a number of remarkable endeavors.
(VNF) – In the June 2018, Save Vietnam's Wildlife (SVW), the NGO specializing in protecting the environment and natural persity of Vietnam has completed a number of remarkable endeavors.
More pangolins and leopard cats were saved from the illegal trade, new vet clinic is being constructed, while the propaganda and education on anti-poaching have achieved note-worthy progress, which were compiled in SVW's recently released report.
Pangolins rescue
At the end of June, the police of Ha Tinh Province confiscated many wild animals in a sleeping bus coming from Laos. There were 7 pangolins found together with many turtles and tortoises. SVW received the pangolins and transferred them to its wildlife rescue center. Apart from three dead ones due to dehydration and exhaustion, the other four were alive ones are getting better.
The pangolin still cured in the ball shape after transferring into a wooden box with food bowl as it was really stressed. (source: SVW)
Also in June, SVW rescued 74 pangolins. A handful of them could not survive due to systemic disease and severe infection, and the rest are doing well. The vet team worked continuously 10 hours per day even weekend to do treatment and quarantine process until their health condition was getting better.
Also in June, some healthy pangolins were brought back home.
"We completed a release trip of nearly 3000 km way to bring the healthy pangolins back to their natural habitat. It's always a delightful moment when seeing them walk into the wild," said a member of SVW.
Before the trip, the veterinary team conducted health screen for about 30 pangolins and 25 pangolins met the requirement to be released.
By sending pangolins home, SVW has made more room for other 110 pangolins currently being taken care at the center.
However, to SVW team, there is still a lot of work, and the food source is getting rarer, not to mention the food cost is pretty high.
Leopard cat rescue
SVW rescued a Leopard cat family in Thanh Hoa province in the early of June. At the end, two Leopard kittens survived. The vet team successfully hand-reared and weaned the two from formula to meat in a month. They have been moved to a bigger enclosure and started to learn natural behavior. Hopefully, they can be released in the future.
New veterinary clinic soon to be completed
In May 2018, SVW began the construction of a new veterinary clinic within the rescue center. The new facility features a procedure room, a lab, office space for the vet team, and separate recovery/ intensive care units for carnivores and pangolins.
A vet takes care of a pangolin's health. (source: SVW)
The construction crew has completed 75% of the building. It is expected that with the new facility, the vet team will be able to work to provide a higher standard of medical care for the animals in the center.
"Valuing nature in Childhood program" generates delightful result
The report of "Valuing nature in Childhood program" is completed 90%, and has reaped positive results: 70% of the kids chose positive actions to protect wildlife; 97,5% of kids agreed "Do not eat wild animal meat" and " Do not keep wild animal as pet", which showed that the kids have right attitude about Dos & Don'ts and the program activities inspired the love toward wildlife in them.
Meanwhile, 99% of teachers and parents and most of the kids expressed their desire to join the program in the future.
SWV's anti-poaching team destroyed camps of the poachers in Pu Mat National Park (source: SVW)
Destruction of poachers' camps and snare traps
In the first 2 weeks of patrolling, SVW Anti-Poaching Team destroyed 8 camps of the poachers and removed 193 snare traps from their 100km walk at Pu Mat National Park.
They also found and released two turtles (one was kept at a poacher's camp and one stuck in a snare trap) in the second week.
As Pu Mat national park, located near the Laos border, is huge (covering 900 square) km, it requires lots of work to protect the whole area.
The Anti-Poaching team therefore will continuously patrol the park, remove snare trap, save wild animal, arrest poacher and also help the rangers in other activities. The team strongly hopes that what they are doing will significantly help reduce poaching in this area, save more wild animal, protect the habitat the park./.
( VNF )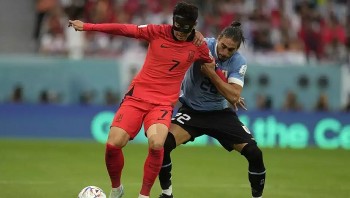 World
Both South Korea and Ghana are searching for their first wins at this year's World Cup. Ghana are facing the prospect of an early elimination from World Cup 2022 Group H when they travel to the Education City Stadium to face South Korea on Monday.