Singapore, China sign several agreements, including free trade agreement upgrade
China and Singapore have signed a slew of agreements, including the upgrade of a bilateral free trade pact, which will allow greater market access for Singapore companies.
China and Singapore have signed a slew of agreements, including the upgrade of a bilateral free trade pact, which will allow greater market access for Singapore companies.
This comes as Chinese Premier Li Keqiang arrived in Singapore for a five-day visit on Monday (Nov 12).
From left: China's International Trade Representative and Vice Minister of Commerce Fu Ziying, Chinese Premier Li Keqiang, Singapore Prime Minister Lee Hsien Loong and Trade and Industry Minister Chan Chun Sing. (Photo: Lip Kwok Wai)
It is Li's first bilateral visit to Singapore since becoming premier in 2013, continuing a series of high level exchanges between the two countries.
The Chinese premier was hosted to a welcome ceremony at the Istana by Singapore Prime Minister Lee Hsien Loong, where both men held talks and witnessed the exchange of several agreements.
This includes an upgrade of the China-Singapore Free Trade Agreement, which was concluded after eight rounds of negotiations over three years since Chinese President Xi Jinping's visit to Singapore in 2015.
The agreement grants Singapore businesses preferential treatment, which leads to lower tariffs, for exports of certain petrochemical products and greater access to China's legal, maritime and construction services sectors.
Investment protection, customs procedures and trade remedial measures will also be improved, while new areas of cooperation, including in e-commerce and the environment, will be forged.
Speaking at the ceremony, Lee said Singapore and China are like-minded partners in many areas, even though the two countries have different circumstances and constraints.
"I believe that we can continue to tap on our complementary strengths, deepen cooperation, and make sure that our all-round cooperative partnership continues to progress with the times," he said.
The Chinese Premier's visit comes as the country marks its 40th anniversary of reform and the opening up of its economy.
Li said China has seen transformative change over the years and Singapore has been involved in this process.
"We share many common beliefs. We both want to safeguard multilateralism and free trade, we also want to safeguard peace and stability in the South China Sea," Li said.
"China, I have to emphasise once again, is still a developing country. There's still a long way to go for China to realise modernisation. China will continue to unswervingly press ahead with reform and opening up, this is the only way for China to realise modernisation.
"We welcome you, our friends from Singapore, to participate in our progress, we will together attain win-win, and benefit China and ASEAN, as well as the region and the world."
The countries' leaders also witnessed the signing of the first Memorandum of Understanding on the Southern Transport Corridor.
The project, which aims to connect western China and Southeast Asia through rail and sea links, will be renamed the New International Land-Sea Trade Corridor (ILSTC), to better reflect two-way trade.
Singapore and China will cooperate in several areas - financial services, transport and logistics, as well as information and communications technology and other modern services. These are the priority sectors of the Chongqing Connectivity Initiative (CCI) - the third government-to-government project between the two countries.
"The signing of this MOU marks a significant milestone for the CCI," said Singapore Trade and Industry Minister Chan Chun Sing.
"It demonstrates the strong commitment by both governments to develop the CCI-ILSTC into a multimodal and multifaceted economic link that catalyses conventional trade connectivity and new dimensions of connectivity like finance and professional services in China's western region and Southeast Asia, resulting in greater integration of both regions."
Another agreement was signed to elevate the private sector-led China-Singapore Guangzhou Knowledge City (CSGKC) to a state-level bilateral cooperation project, which means it will receive greater attention by both governments.
"The elevated CSGKC will serve as an important bilateral cooperation project between both countries, and contribute towards our collaboration in the development of the Guangdong-Hong Kong-Macao Greater Bay Area," said Education Minister Ong Ye Kung, who signed the agreement.
The Chinese project aims to integrate the economies of Hong Kong, Macau and nine other mainland cities to form an innovation powerhouse, to rival the likes of Silicon Valley./.
VNF/CNA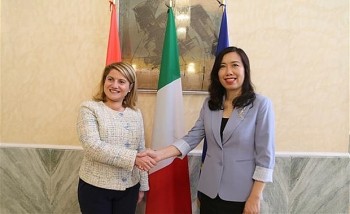 Friendship
The Vietnam - Italy political consultation is part of the occasion of the 50th anniversary of diplomatic ties and the 10th anniversary of the framework of the strategic partnership.