Singaporean real estates giants eye Vietnamese market
The first half of 2017 has seen increased interest from Singaporean real estate firms in the Vietnamese market, with Sembcorp, CapitaLand, Mapletree, and Keppel Land among the biggest movers and shakers.
The first half of 2017 saw increased attentions from Singaporean real estate firms in the Vietnamese market, with Sembcorp, CapitaLand, Mapletree, and Keppel Land among the biggest movers and shakers.
Apart from greenfield investments, Singaporean developers are now actively expanding their portfolios through mergers and acquisitions (M&A).
A wave of M&A
Singaporean investors are focusing on M&A in Ho Chi Minh City. Outstanding deals are the Duxton Hotel Saigon, Empire City, Somerset Vista, Saigon Centre, and the Kumho Asiana Plaza.
According to Leong Boon Hoe, CEO of CBRE Singapore, Singaporean investors are seeking new opportunities to persify their portfolios, often after having already invested in previous emerging markets like Thailand or Bali.
After the laws regarding housing and real estate for foreigners were amended in July 2015, foreign real estate investment has become much more transparent.
"Owning property in Vietnam is a new trend among Singaporeans. In the ASEAN region, Vietnam is one of the most attractive nations for foreign investment in property market," Hoe said.
In March, Keppel Land acquired from its Vietnamese partner, Southern Waterborne Transport Corporation an additional 16 per cent stake, forming the joint venture Keppel Land WATCO I to V.
Keppel Land has also signed a memorandum of understanding (MoU) with Vietnam's State Capital Investment Corporation (SCIC) to shake hands in other investment deals in the country.
Keppel Land is one of the pioneer foreign real estate investors in Vietnam, and now holds a perse portfolio of properties in Hanoi, Ho Chi Minh City, Dong Nai, and Vung Tau – including Grade A offices, residential properties, waterfront homes, retail centres, integrated townships, and award-winning serviced residences.
Keppel Land has so far secured 20 licensed projects across Vietnam and more than 25,000 homes in the construction pipeline. To date, the firm's total registered capital in Vietnam worths about US$2 billion.
Kumho Asiana Plaza (source: vietnamtowers.com)
Meanwhile, earlier in this year, CapitaLand, another Singaporean real estate developer, which has developed more than 9,000 units in Hanoi and Ho Chi Minh City, just announced a new commercial fund to acquire more residential development sites.
The firm established a US$500-million fund to invest in secured seed commercial properties, mainly in Ho Chi Minh City and Hanoi.
CapitaLand has recently been involved in two projects in Vietnam. The firm has acquired 20 per cent stakes in Thien Duc Trading Construction and Twin Peak Development and Riverview, to the tune of US$17.9 million and US$51.9 million, respectively.
According to Chen Lian Pang, CEO of CapitaLand Vietnam, Vietnam's strong growth outlook and positive market sentiment is the rationale for the company to commit in long-term development here.
CapitaLand recently confirmed its plan to expand its business in Vietnam, announcing it was looking to increase its S$2.1 billion (US$1.55 billion) multi-asset class presence in Vietnam, possibly including Raffles City - a CapitaLand's flagship brand of integrated developments located in city centres with excellent connectivity to key transport nodes.
Last year, Mapletree paid $215 million to acquire Kumho Asiana Plaza from Kumho Industrial and Asiana Airlines. According to Hiew Yoon Khong, Mapletree group CEO, Vietnam presents a big opportunity for Mapletree.
"We will continue seeking other investment opportunities in completed assets which have quick returns in big cities."
"We are also interested in undeveloped plots to build offices for lease, retail centres, residences, serviced apartments, and mixed-used projects that we can develop by ourselves or through co-operation with other local developers," Khong said.
Da Nang city is one of the appealing choice to Singaporean investors (source: luxurydanang.info)
Singaporean investors note that the high-end real estate market in Vietnam has outstanding advantages in terms of development potentials, as well as attractive prices compared to neighbouring countries.
The beachfront real estate segment possesses many of the resort features and high profitability that investors look for in emerging markets.
Jacobus Hemels, representative from Alphanam Real Estate – the developer of Luxury Apartment Danang – said that Singaporean investors are well-versed in emerging markets, and they are on the lookout for the next property hotspot.
Lion City roars in
Lion City, a Singapore giant, is also growing its presence in Vietnam, with a total of around US$1.85 billion invested in commercial properties in Vietnam's major cities.
Mapletree is also investing more than US$1 billion in a range of new projects in Ho Chi Minh City, including the Oakwood Residence Saigon and the RichLane Residence in District 7.
The heat of the Vietnamese property market is also part of the reason for the Vietnam Singapore Industrial Park (VSIP), a developer specialising in industrial parks, to venture into the township and residential segment.
John Lim HM, head of commercial and residential at VSIP, said that Vietnam is a land of immense growth potential. "As Vietnam grows, the community needs to evolve," he said. "This is why VSIP has transformed our core offerings from standalone industrial parks to integrated township and industrial park models. It enables us to bring comprehensive solutions for living, work, and play, and also to apply urban planning best practices in Vietnam.
"We believe that successful implementation rests on a strong master plan that is backed by robust urban infrastructure and integrates utilities and facilities for enhanced living."/.
( VNF/VIR )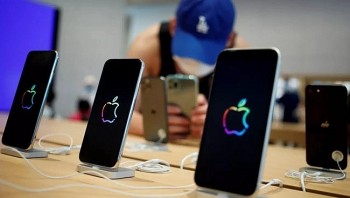 World
India exported iPhones worth $1 billion from May to September 2022, according to a Bloomberg report, but a closer look at the data shows the country is a long way from rivalling China's iPhone manufacturing chops